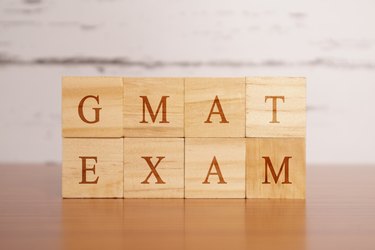 If you're planning to apply to pursue a Master of Business Administration (MBA) degree, you'll often find that the business school asks for a graduate admissions test score along with the other application requirements. The Graduate Management Admission Test (GMAT) remains the most popular score required, but a growing number of schools alternatively accept the Graduate Record Examination (GRE). However, some schools don't require such tests at all or waive them for specific applicants. So, the answer ultimately depends on the school and MBA program you choose.
Understanding the GMAT Requirement
Business schools like to see GMAT test scores since this test helps verify the analytical reasoning, writing and quantitative skills that program applicants need to succeed in an MBA program. This important computer-based test takes more than three hours and has four sections with one each covering verbal, analytical writing, quantitative and integrated reasoning skills. It's computer-adaptive, meaning the difficulty of questions adjusts to the test taker and the test leverages one's background in the humanities.
The possible overall score for the GMAT ranges from 200 to 800, with each business school deciding on the minimum requirement for admission. The average score as of 2019 was 565, per The Princeton Review. Most test-takers earned scores within the middle of the possible test range.
Earning an above-average GMAT score can help you build a strong application, especially at a competitive school where other applicants likely have high test scores. You can check the school's admissions website, speak to them directly or do research online to learn about the GMAT test score needed as well as the average scores for past admitted applicants.
If you're interested in hedging your bets, you might opt to take both tests.
Finding Programs Waiving the GMAT
If you'd prefer not to need to take the GMAT or you're concerned that your score might make it challenging to get accepted, you can find MBA programs that don't require test scores for any applicant or offer waivers to specific applicants. Often, these programs are geared toward working adults or are online programs. Instead of showing a GMAT score, applicants usually need to show professional experience and a strong undergraduate background, and they may have to specifically ask for a waiver.
For example, Boston College will allow for a GMAT or GRE test score waiver for MBA applicants who already have a terminal degree, professional certification or a 3.0 undergraduate grade point average or who have worked at least three years full-time. The online institution Western Governors University just asks for a completed bachelor's degree and three years of business experience.
Note that some schools such as California State University Long Beach temporarily don't require any GMAT score for any student due to the effects of COVID-19 on testing. However, such schools might require an alternative internal admissions test, and the requirement removal may only apply for a while longer. In this case, you might want to consider taking the GMAT anyway if it can help you stand out.
If you're applying to an MBA program that doesn't waive admissions testing requirements, you might find that your school is one of many that will accept both the GMAT and GRE for admission.
If you're interested in hedging your bets, you might opt to take both tests. One of the advantages of doing so is that you can see which test you do better on and submit the higher score. A downside, however, is that you'll need to take extra time to prepare for and take both tests. At the same time, you could decide to just go with the GRE and skip the GMAT if your school allows it.
Some good news is that both the GMAT and GRE cover the same key areas of analytical writing, quantitative reasoning and verbal reasoning. The GRE is taken online for most test takers, has a time limit of 3.75 hours and is computer-adaptive like the GMAT. You get two scores between 130 and 170 for the quantitative and verbal portions plus a separate score up to six for the essay portion. You'll want to check with the specific business school to find the GRE score needed for MBA admission.