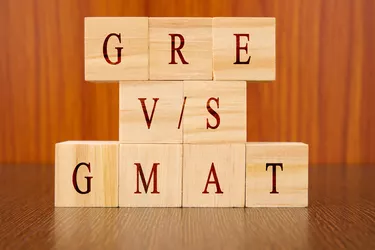 Whether you're going to grad school to study technology, business or the humanities, there's a good chance your application process will require submitting standardized test scores. The Graduate Management Admission Test (GMAT) and Graduate Record Examination (GRE) both cover similar types of skills and are widely accepted for graduate school programs. However, deciding between them involves checking your prospective school's requirements and understanding the pros and cons of each so you can choose the one that fits your preferences.
The GMAT is a ​3.5-hour​ computer-based test designed to test skills important for business school programs and has a strong focus on analysis and problem solving. The four-part exam has three multiple-choice sections that each cover integrated reasoning, verbal reasoning and quantitative reasoning along with an analytical writing assessment. The math and verbal reasoning questions will adapt in difficulty based on your answers. There's a proctored online version you can do from home if you'd rather not visit a testing center.
You have some control over the order in which you take the four tests, and each part has difficult time limits. Your total score will be between ​200 and 800​, and the average total score as of 2019 is ​564.84​. The preferred range for GMAT scores will depend on the business school.
The main consideration for deciding whether to take the GRE or GMAT is your grad school's policy
The GRE has a ​3.75-hour​ time limit and focuses on math, verbal and reasoning skills useful for grad school programs ranging from the arts and humanities to business and nursing. It features six sections with one for analytical writing, two for quantitative reasoning, two for verbal reasoning and one section deemed as experimental with verbal or math questions. Like the GMAT, this computerized test is adaptive for the quantitative and verbal reasoning portions, and an at-home version is available.
Time limits vary between ​30 and 35 minutes​ for each part of the GRE. You'll get separate scores for quantitative and verbal, each between ​130 and 170​. The national average stands at ​152​ for the quantitative score and ​150​ for the verbal score. You'll want to check with specific schools to learn about any cutoff scores.
Deciding Which Test to Take
The main consideration for deciding whether to take the GRE or GMAT is your grad school's policy. In many cases, you'll find both exams acceptable if you're going to study at a business school, but some schools will only allow the GMAT. On the other hand, the GRE is a more likely choice for a broader range of graduate programs such as those in the humanities.
In terms of exam difficulty, the Princeton Review suggests considering your strengths in math and language when choosing a test. For example, the quantitative part of the GMAT tends to be more complex and doesn't always give you a calculator like the GRE does. Further, the GRE has more of a focus on vocabulary for its verbal component than the GMAT, which focuses more on editing content.
Also, keep in mind you can always do both the GMAT and GRE and in some cases, you might need to do neither. You can check if your school has a test waiver that lets you skip the exam when you have good grades and significant work experience. Further, some grad schools have stopped asking for graduate test scores entirely.
Registering and Preparing for Testing
Before registering for the GRE or GMAT, make sure you can take the test by any application deadlines for your grad school as well as verify the test dates available. The easiest way to register is to visit the ETS website for the GRE or MBA.com for the GMAT and create an account to get started. You'll then be able to provide your personal information, list schools that should receive your scores, select the test date and location and pay for the exam (​$205​ for GRE or ​$250-$275​ for GMAT).
You have plenty of test prep options to consider ranging from free resources online to GRE or GMAT prep classes. The websites for these tests serve as a helpful resource for sample test questions and descriptions of the skills and content covered. You can also find GRE and GMAT prep books, consider a test prep coach and use online flashcards for vocabulary items.