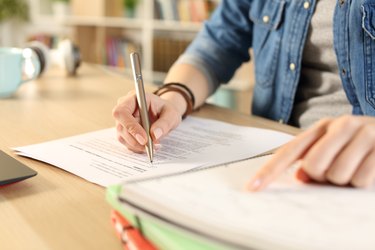 Scoring well on the standardized tests, such as the SAT, is a critical first step in gaining admissions to the nation's best colleges. Students typically need high scores to gain acceptance to the colleges of their choice. And to achieve high scores, they often need some help.
Students can choose from a range of test prep resources. While some options are available for free on the internet, other resources, such as classes or personal tutoring from large test prep companies, involve fees. Whether or not test prep classes are worth the cost really depends on the unique needs of a student including their goals and budget.
Improving a student's grades enough to gain admissions into the elite colleges may justify the cost. For example, increasing a student's GMAT score by 30 to 50 points might very well be worth it as a degree from a top-ten MBA program can mean an additional ​$1 million​ in lifetime earnings.
Just keep in mind that test prep courses will not turn a C student into an A+ student. However, they can improve a student's ability at taking exams, answering the questions and scoring better. Still, sometimes there's no substitute for spending many hours studying, whether taking free or paid courses.
It's often difficult for a student who is already scoring high on the exams to make significant improvements; there simply isn't that much room to increase their score. However, a student who's starting out with a lower score has more room to improve, justifying the test prep cost with a greater increase in points.
Students can take a full-length official SAT practice test, such as the PSAT, to find their baseline SAT scores. After they have a baseline score, they can look at the colleges to which they're applying and see how their scores fit within the acceptance rates. This will give them an idea of how many points they need to improve, if any.
While some options are available for free on the internet, other resources, such as classes or personal tutoring from large test prep companies, involve fees.
Students can save quite a bit of money by purchasing test prep study materials and developing their own schedules for self-study. These readily available resources contain thousands of practice questions to give students a good idea of what to expect on the SAT and other standardized exams.
Khan Academy is an online website that offers a number of free practice exams for the SAT and other standardized admissions tests.
Test Prep Courses and Tutoring
According to Forbes, in recent years, students have spent around ​$1 billion​ taking test prep services. This money was spent on in-person classes, online classes and tutoring. The Princeton Review and Kaplan are two of the nation's largest test prep services providers.
The cost of test prep services can range from a few hundred dollars to purchase self-study materials up to several thousand dollars for one-on-one tutoring. For example, a ​30-hour​ tutoring session offered by the Princeton Review can cost around ​$1,000​.
The high fees to take classes or have individual tutoring can be prohibitive for some families. The good news is that the top test prep providers back up their services with a guarantee. If your score does not improve at least 100 points above your PSAT score, they give you the option of taking a full refund or repeating the course for free. To measure the results, they establish a base score by having students take the PSAT exam before enrolling in their classes.