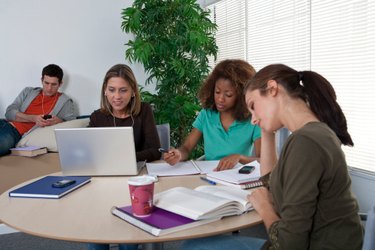 Advanced Placement (AP) exams are usually taken by juniors and seniors in high school or by entry-level college students who wish to gain classwork credits so they don't have to take the courses in college. The Internal Revenue Service (IRS) does not allow parents or students to claim Advanced Placement exam costs as a tax deduction. The IRS considers the cost to be a service-related educational expense.
Not a Tuition Expense
According to the IRS, Advanced Placement costs for college exams are not considered a tuition expense and are not tax deductible. For those choosing to take the tests, Advanced Placement exam fees must be paid in addition to all tuition costs. The fee cannot be claimed as as itemized deduction on Schedule A of tax Form 1040.
Not a Required Fee
Some college administrative and enrollment fees are tax deductible because they are required for all students. AP exams are optional, so students are not required to pay any fees if they choose not to take the tests. However, if a student passes an AP test, he can save tuition costs by not taking the course in college.
Not a Textbook
The IRS allows a student to consider required textbooks as part of her educational expense. AP exams are not required educational materials, so the expense is not tax deductible. Neither the parent nor the student can claim the exam fee as a deduction on federal tax Form 1040.
Not Necessary for Enrollment
Some educational fees are tax deductible if they are required for enrollment at a college or educational institution. AP exams are not necessary for acceptance or enrollment at a college or university. School admissions policies do not require AP exams; however, a student with passing AP exam scores could have a competitive edge over other applicants. The AP exam costs are not tax deductible.