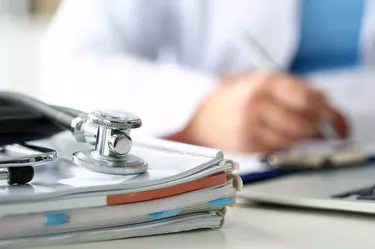 Preparing for and taking the Medical College Admission Test (MCAT) strikes fear in most students who want to become doctors. Fortunately, not all medical schools require applicants to take the MCAT.
A large number of medical schools have programs that place less emphasis on the MCAT and take a broader look at a student's interest in science, extracurricular activities and other scholastic scores, such as their SAT and GPA.
Here are a few ways to get into medical school without taking the MCAT.
The MCAT is a computer-based test with standardized multiple-choice questions. It tests the student's knowledge and critical thinking applied to natural science and behavioral science. It also tests the student's problem-solving ability, knowledge and critical thinking on concepts and principles related to the study of medicine.
The MCAT has four sections:
Biological and Biochemical Foundations of Living Systems
Chemical and Physical Foundations of Biological Systems
Psychological, Social and Biological Foundations of Behavior
Critical Analysis and Reasoning Skills
Each section is scored separately with a range from ​118 to 132​. Overall MCAT scores range from ​472 to 528​ with a median of ​500.​
The Association of American Medical Colleges (AAMC) develops the questions for the exam and sets test dates several times each year at sites in the United States, Canada and other locations around the world. The COVID pandemic has shortened the list and locations of available test dates, so you'll need to check the AAMC website to find a suitable date. You can register online through the AAMC to take the MCAT exam, and the cost is ​$315.​
Is Taking the MCAT Required?
The most prestigious medical schools, such as Harvard and Johns Hopkins, require students to take the MCAT. The admission process to these top-tier schools is very competitive, and students must have high scores on the MCAT and high GPAs to be accepted.
However, not all medical schools require students to take the MCAT, or, if they do, will accept students with lower scores on the MCAT.
Combined BA/MD and BS/MD Programs
Several schools offer combined degree programs that don't require students to take the MCAT. With these programs, high school students with exceptional grades and high scores on the SAT or ACT can be accepted to medical school even before they begin their undergraduate studies.
Students are required to obtain a Bachelor of Science (B.S.) or Bachelor of Arts (B.A.) degree and then enter medical school for their Doctor of Medicine (M.D.) degree at the same school.
Here are a few colleges that offer combined degree programs:
CUNY School of Medicine
University of Florida College of Medicine
University of Miami
Boston University School of Medicine
Drexel University College of Medicine
Early Assurance Programs (EAP) allow students to apply to medical schools after their second year of undergraduate studies. In most cases, these schools do not require applicants to take the MCAT, although they may ask for students' high school transcripts and SAT and ACT scores. However, acceptance into EAPs is extremely competitive, and applicants must have demonstrated an interest in pursuing a career in the medical field by taking medical school prerequisites and scoring high or nearly perfect GPAs.
These schools have early assurance programs:
Albany Medical College
Dartmouth College Geisel School of Medicine
Georgetown University School of Medicine
University of Rochester School of Medicine
Tufts University School of Medicine
Flexible Admissions Programs
A few medical schools offer programs that have more flexible admission requirements, such as skipping the MCAT entirely and taking a holistic look at each applicant. These programs focus more on the student's overall interest in medicine and science. They consider the student's outside activities and leadership in community services. Even students that have been enrolled in social science and humanities courses are encouraged to apply for FlexMed programs.
These schools have flexible admissions programs:
University of Toledo MedStart Program
Icahn School of Medicine FlexMed Program at Mount Sinai