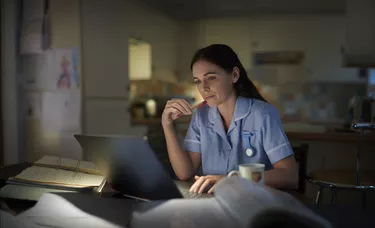 Being admitted into medical school is challenging. First, you must have the grades and the test score to even be considered. Then once you are accepted, there's the hefty tuition. But before admission, there's a high cost to apply to medical school that most students don't realize exists.
Medical Schools Require MCAT
The MCAT is part of the admission process for medical schools. And although most colleges look at the whole application when evaluating a potential student, the MCAT score is a major factor. It's imperative that it be a high score.
Biological and Biochemical Foundations of Living Systems
Psychological, Social and Biological Foundations of Behavior
Chemical and Physical Foundations of Biological Systems
Critical Analysis and Reasoning Skills
Each section is scored separately, and the final mean score across the U.S. is 500. Most med schools look at and accept those that score 505 or higher.
Costly Books and Practice Tests for Self-Study
You'll need several books – one for each test section. The books run anywhere from $40 to $50 apiece. Some publishers do offer bundles that include practice tests, which make it a little more economical.
One of the most effective ways to study is to take practice tests. The Association of American Medical Colleges (AAMC), which administers the MCAT, has practice tests available for purchase.
Written by the same individuals who designed the MCAT, they are offered for $35 apiece. Once purchased, they are available to you for one year.
When you run the numbers, you'll find that just applying to medical school can cost upwards of $10,000.
There are numerous online courses available to prep you for the MCAT. It's an opportunity to immerse yourself in the information. Some services available with these courses are:
On-demand video
Live lectures
Study materials
4-week boot camp
Practice tests
Although they're great to prep for the MCAT, some are on the pricey side. An online MCAT course runs anywhere between $1,500 and $6,500. Almost all of them tout or guarantee a 505 or better MCAT score.
MCAT and Primary Application Costs are Expensive
After paying for the practice tests and courses, now it's time to pay for the MCAT. The MCAT registration fee at this time is $325. If you don't show for the test or cancel within 10-29 days of the scheduled test, you do not receive a refund.
Fortunately, the AAMC has a Fee Assistance Program. If eligible, it will bring the MCAT down to $130.
Under the AAMC, the American Medical College Application Services (AMCAS) is used by most medical schools to process applications. This is the primary application. And there's good news and bad news when it comes to the AMCAS.
It's convenient because only one submission of application materials is necessary by the student. After that, all the materials required are forwarded to any school you want. This can be as many medical schools as you wish.
But it's going to cost you. The first school submission is $170 and any additional schools are $42 each. Considering that most students apply to nine medical schools, this adds up fast.
Med School Requires Secondary Application Fees
Besides the primary application fee with the AAMC, each medical school has an application fee. Most school fees are between $75 and $150.
Costs for Med School Interview
If you are fortunate to be invited to interview, it's going to cost you. A medical school interview fee is $400. And unless the school is footing the bill, travel is extra. Please note the norm is for the student to pay travel expenses.
The study of medicine is expensive. When you run the numbers, you'll find that just applying to medical school can cost upwards of $10,000. And there's no way of knowing if there will be a good return on your investment. It's up to you to determine if the payoff in the long run is worth the investment.