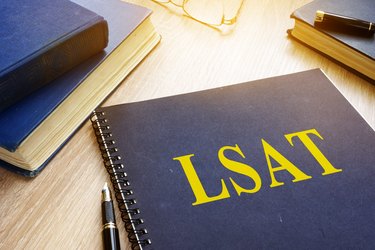 One of the biggest challenges of attending law school is the application process. The Law School Admissions Test is a major hurdle to gaining admission. The test fee and prep process are also time-consuming and expensive. When thinking about law school, it's essential to set money aside for the associated costs and to know what the LSAT entails and how it will affect your admission.
The LSAT is a multiple-choice exam that includes a writing sample. A writing sample is an essay. The test has three scored sections:
Analytical Reasoning
Reading Comprehension
Logical Reasoning
The sections are given to you in the above order. You are given 35 minutes to complete each section.
The writing sample also has 35 minutes allocated for completion. Although this essay is required, it's not scored. It's up to each school to decide how they will evaluate it.
To prepare for the LSAT, take practice tests. Take at least four full-length practice tests. This alone is 16 study hours. It will familiarize you with the test's questions and layout. You will note that the questions' difficulty increases as you move through the test.
But it goes beyond memorizing questions and answers. Half the LSAT score you earn is made up of the logical reasoning portion. So when studying, you need to focus on this area.
With the logical reasoning portion, working with a tutor is helpful. But if you can't afford it, or one isn't available, studying with peers periodically can help. Since there are four prompts on the LSAT, have four members in the group. You'll be able to give and explain your answers to each person and determine if your logic has flaws or merit.
Beginning in August, there are typically around eight opportunities to take the LSAT. Taking the test early will ensure that you have your scores available for law school application deadlines. It also gives you the luxury of time to retake it if you don't like your first score. The LSAT is required for all law schools.
The test is scheduled through the Law School Admission Council and remotely proctored through ProctorU.
CAS Required by Law Schools
The Credential Assembly Service simplifies your law school application process and law schools require it. With CAS, your transcripts, letters of recommendation and any other documents necessary for each of your law school applications only have to be sent one time to the LSAC.
There are several fees associated with the LSAT, which are subject to change:
​LSAT exam:​ $200

​Credential Assembly Service:​ $195

​Law School Report:​ $45 per school
Fees are paid to and administered through the LSAC. Most credit cards are accepted when paying online.
For those financially eligible, the LSAC has a fee waiver available. You must apply for this waiver six weeks before the LSAT registration. You must also supply your federal tax return within 45 days of the application date. You can take the LSAT test during this time, but you will not receive your scores until the waiver is approved.
The LSAT is just the beginning of law school costs. On average, the cost of attending a private law school is around $44,000 a year. State schools are lower, with the average cost running around $27,000 for in-state students. Tuition costs are subject to change annually.