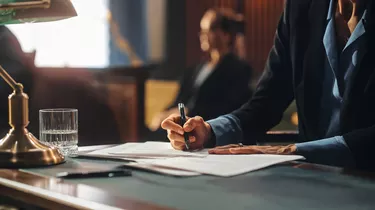 Becoming a lawyer involves completing educational requirements that often take seven years or longer. Your journey includes earning an undergraduate degree, meeting law school admissions requirements and completing a Juris Doctor (J.D.) program. Alongside studying, you'll get experience in the legal profession that helps prepare you to get licensed and practice law. While the path is demanding, the U.S. Bureau of Labor Statistics (BLS) reports an average salary for lawyers of ​$148,030​ as of May 2021.
Earning Your Bachelor's Degree
While you could choose a criminal justice or pre-law major, the American Bar Association says there's not a specific bachelor's degree you need for law school. However, it advises that your undergraduate degree program provide you with written and oral English, critical-thinking skills and organizational skills. Courses in history, political science and psychology also help. You'll want to also keep your grade point average high to be competitive.
While you might immediately proceed with law school after graduating college, the University of Wisconsin-Madison says most aspiring lawyers first take some time off to work, volunteer or complete other tasks. For example, you might look for a paralegal position at a law office, pursue an opportunity in an organization in your law area of interest or complete community service.
Those with whom you work could offer helpful letters of recommendation. You could also take courses to gain skills that might help you stand out on your law school application.
Before you can apply to a J.D. program, you'll need to take the Law School Admission Test (LSAT), explains the Law School Admission Council (LSAC). Your LSAT score will be from ​120 to 180​, and you'll want to check the average score for your prospective law school. Once you've gotten your test score, you can begin applying to ABA-accredited law degree programs and submitting important documents, like letters of recommendation, transcripts and a personal statement.
You can usually expect to go through ​three years​ of law school, although accelerated and part-time options exist. According to Columbia Law School, the first year includes foundational courses in areas like contract law, criminal law, property law, legal writing, legal procedures and constitutional law. The other two years incorporate various electives that might relate to a specialization. Example areas of law include intellectual property law, corporate law, tax law and family law.
Getting Experience Outside the Classroom
Your J.D. degree program should offer legal field experiences outside of the classroom. You can work at your school's legal clinics, participate in mock trials or do practice trials where lawyers and judges supervise. At larger law schools, you may have a choice of multiple legal clinics dedicated to certain specializations. Some mock trials are held among the school's law students, while others are competitions between different law schools.
You will also have the opportunity while in law school (or even immediately after) to work as a clerk or intern. The BLS says you can find these positions at law firms, corporate legal departments or government agencies. These opportunities can help you secure a full-time position with your employer after graduation.
Getting Licensed to Practice Law
After acquiring your law education and experience, you'll need to apply to get admitted to your state's bar to practice law. The BLS explains that the process involves submitting paperwork to the state, passing your state's bar exam, passing a character and criminal background check and paying any associated fees. After becoming a licensed lawyer, you can give legal advice as an attorney in private practice and other settings.
Afterward, you'll need to stay on top of the continuing education requirements set by your state. The LSAC mentions that you might also eventually pursue a Master of Laws (LLM) degree in a legal specialization for career advancement.