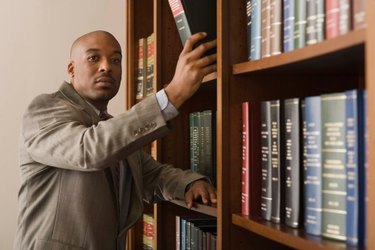 Becoming a lawyer can require seven years or more of post-secondary education. First, you must complete undergraduate studies. Then, you must graduate from law school. According to the Bureau of Labor Statistics, getting into law school can be very competitive and you will need to take the Law School Admission Test.
Undergraduate Education
The American Bar Association states that there is no particular area of study that a student interested in law school should complete. The ABA does say, however, that there are skills the student's coursework should develop. Research and writing are especially important skills for a lawyer, but problem-solving, oral communication and organization should be emphasized as well. The ABA also recommends that students take courses in history, political science, mathematics and psychology.
Work Experience
After you've completed your undergraduate studies, you have the choice to go directly to law school or to get a job. Taking a break from school and working may help your chances of getting into law school, according to the Law School Admission Council. The Council goes on to state that only one-third of law school students enroll directly after completing a bachelor's degree. Law schools like the diversity of backgrounds in the enrolling class that post-baccalaureate jobs can provide.
Law School Courses
Law school may take three or more years to complete, depending on whether students are enrolled full- or part-time. Students must complete a core curriculum in courses such as legal writing and constitutional law, but then may choose specialized courses related to the field of law the student is interested in practicing. For instance, a student may choose to take courses about tax law.
Outside of Coursework
Law schools also provide experiences for students outside of the classroom. You can work at one of the school's legal clinics, participate in mock trials or practice trials where lawyers and judges supervise the students' work. At larger law schools, you may have a choice of multiple legal clinics that are dedicated to particular fields of law. Some mock trials are held among the school's students; others are competitions where schools compete against one another. You also will be able to write papers that may end up being published by the school's legal journal.
Internships and Clerkships
You will also have the opportunity while in law school, or even immediately after, to work as a clerk or intern. You can find these positions at law firms, corporate legal departments or government agencies. By working as a clerk or intern, you may be able to secure a full-time position with your employer after graduation. The American Bar Association's Law Student Division offers a listing of internships, and your law school can help you find an internship as well.