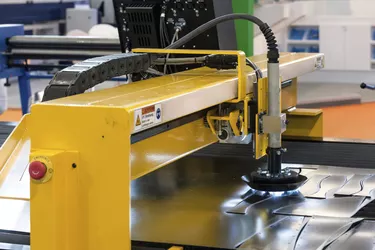 Part of becoming a journeyman machinist is getting the right combination of training and hands-on experience. However, work experience in the machining industry is difficult for entry-level machinists to find because most machining jobs require previous experience. To make matters worse, no machinist standards organization exists at the national level, leaving each state to decide whether and how it will manage the journeyman process. While there is no formal path to becoming a journeyman machinist, there are some steps you can take to make sure you get the right education.
Step 1
Start training in high school. High school courses in drafting, math and metalworking are a good foundation for future apprenticeships in machining. Graduate with an understanding of trigonometry and geometry, the ability to read blueprints and use a computer. Basic computer skills are becoming necessary because of the growing use of computer-controlled machining processes.
Step 2
Enroll in a technical or trade school program for machining. Completing a machining program can result in a certificate or a two-year associate degree. Look for a school that includes CNC (computer numerical control) training and offers placement in an apprenticeship program after graduation. Find out what the apprenticeship program offers as recognition of completion. Apprenticeships combined with a classroom program could lead to a journeyman certification.
Step 3
Get work experience. Check the local employment classified ads and look for jobs that can help hone your machining skills. Search for jobs that use a drill press, lathe, buffing or grinding machines or look for entry-level work in a machine or metal shop. Look for employers that pay for additional education and training or that will apprentice you to a journeyman-level machinist in the company.
Step 4
Apply for a machinist apprenticeship. Check with your local workforce development office (usually a part of your state or city unemployment agency), community colleges and technical schools offering machinist programs or with local manufacturing employers. Honeywell and Los Alamos National Laboratories are two companies that offer apprenticeship programs.
Step 5
Contact your state's trade licensing office and inquire about a machinist's certification. Certifications and journeyman licenses are offered at a state level usually through a department of labor or professional licensing and regulation. Machinists work in a variety of industries and hold job titles such as fabricator, mold maker, diemaker or grinder. Your state could lump a machinist in with another category such as welding, construction or HVAC fabricator.
Step 6
Contact a local chapter of the National Tooling and Machining Association. Although not a national standards organization, the NTMA does offer training centers in many states. The NTMA may also partner with community colleges and trade schools to provide classroom education and apprenticeship opportunities.
Tip
Journeyman machinists are those people who can prove they have the training and job experience to work as a machinist. Most combinations of education and apprenticeships last from four to five years. College-level training programs usually take up to two years to complete and apprenticeships take from two to three years to finish.