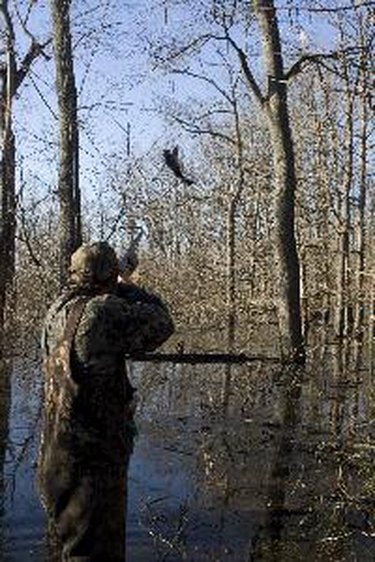 If you want a job in law enforcement, but also like to spend your day enjoying the great outdoors, then a career as a game warden in Pennsylvania may be your calling. Game wardens, also known as wildlife conservation officers, spend the majority of the day ensuring that anyone hunting or fishing is properly licensed and follows local laws. A game warden makes arrests and gives citations to individuals who are not following the law.
Pennsylvania Game Warden Average Salary
Working as a game warden in Pennsylvania, you can expect your salary to be in the mid-$60,000 range. According to SalaryExpert.com, a game warden living in the Pittsburgh area would see an average salary of $63,000 per year. In the Philadelphia area, on the eastern side of the state, SalaryExpert.com reports the salary is slightly higher, with game wardens bringing in nearly $67,000 per year. The Pennsylvania Game Commission says the starting salary for a wildlife conservation officer is $38,995.
Requirements to become a Pennsylvania Game Warden
To become a game warden in Pennsylvania, you will need to be a resident of Pennsylvania, be at least 21 years old and have had a hunting license for no less than two years prior to applying to the Pennsylvania Game Commission. Also, you will need to pass a battery of tests including a comprehensive physical examination of your vision, hearing, strength and agility. A drug test and psychological exam, as well as a criminal background and credit check, are part of the screening process.
Cadet Training and Salary
If chosen to become a Pennsylvania wildlife conservation officer, you will first need to be trained by the Pennsylvania Game Commission. Cadets are required to attend training at a Pennsylvania Game Commission training facility. During your training, you will be provided with lodging and meals, as well as bi-weekly pay of $1,161.60.
Health Benefits, Paid Holidays and Office Reimbursement
Pennsylvania wildlife conservation officers generally work from their homes. Office equipment is supplied by the Game Commission. The commission also pays you rent for using part of your home as an office. Each officer is provided a uniform, firearm and official vehicle. Fringe benefits include medical and hospitalization insurance, dental insurance, paid prescription care, vision care, life insurance, state employees retirement system, paid sick and personal leave, paid state holidays and workers' compensation insurance.