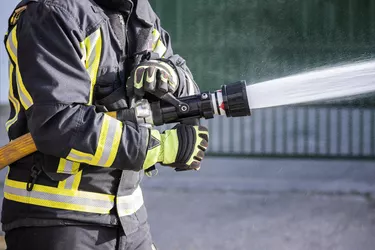 Are you interested in helping others during emergencies? If you feel a calling to assist others and have strong leadership skills, you may have a future as a firefighter. A lieutenant firefighter is a combination of a tactical and management role, where you go to the scene of an emergency with your team in addition to managing resources, training, operations and personnel at the firehouse. Find out what a lieutenant firefighter salary is and what the role entails to see whether this is a position that is right for you.
Lieutenant Firefighter Salary
A lieutenant firefighter salary depends on the location, seniority, merit, employer and other factors. According to Comparably, the average lieutenant firefighter salary is ​$84,868​ in the United States. However, certain areas like New York, Boston and Los Angeles pay considerably higher than the average, while Washington D.C., Chicago and Phoenix pay lower. FireRescue1 notes that the FDNY fire lieutenant salaries start at ​$94,300​, and go up to ​$125,848​ including overtime and holiday pay.
The U.S. Bureau of Labor Statistics, which tracks salaries for all ranks of firefighters, notes that the median annual wage was ​$52,500​ in May 2020. The lowest 10 percent of firefighters made less than ​$26,940​ a year while the highest 10 percent of firefighters made more than ​$93,790​ a year.
Firefighters employed by state governments made the highest salaries, according to the U.S. Bureau of Labor Statistics, followed by those who work for the federal government. Those employed by the local government made the lowest salaries.
Duties of a Lieutenant Firefighter
According to FireRescue1, the ranks within a fire department are taken from the military structure. In order to be promoted, firefighters have to serve a certain amount of time at each rank before moving on to the next position. The ranks begin at probationary firefighter, followed by firefighter, driver engineer, lieutenant, captain, battalion chief, assistant chief and fire chief. The lieutenant firefighter may sometimes take on the role of acting captain in a temporary capacity if the captain is not present.
A lieutenant firefighter oversees the emergency response of their company. They are also responsible for managing the firefighters and the team's resources. As a result, this position is both a tactical and managerial one. The lieutenant firefighter goes with the team to the scene of an emergency. They are proficient in scene operations and directing other firefighters at the scene.
Lieutenant firefighters also supervise daily operations for the other firefighters, which includes training. They may help the team learn or refresh their EMS skills, or work on learning maps of local buildings and landmarks to help them navigate in case of an emergency.
Career Outlook for a Lieutenant Firefighter
According to the U.S. Bureau of Labor Statistics, employment for firefighters will grow six percent between 2019 and 2029. This is in line with other firefighting and prevention roles, and two percent higher than all careers combined. There are over 24,000 open firefighting positions each year in the United States. Some of these openings are as a result of firefighters taking on new careers or retiring. Candidates who have the right post-secondary education, volunteer experience and paramedic training have the best job prospects of getting hired.
The U.S. Bureau of Labor Statistics notes that there is a long-term decrease in fires and deaths as a result of fires. This is because of new building codes and fire-safe building materials being used in construction. However, firefighters still play an important role in emergency response. In addition to working in cities and towns, they are also required in wildland areas to manage active fires and reduce potential fires by overseeing environmental conditions.