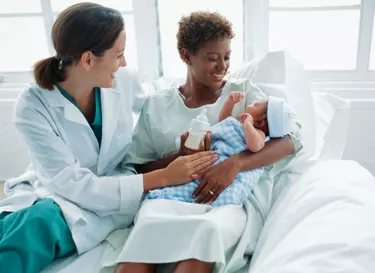 Obstetricians are medical doctors or doctors of osteopathy who deliver babies and care for pregnant women. Obstetricians frequently also practice as gynecologists, who are specialists in women's health, particularly as it relates to reproductive health. Obstetricians and other physicians are among the most highly educated of all professionals in the United States, according to the U.S. Department of Labor's Bureau of Labor Statistics. They are also among the most highly compensated of all professionals.
Wages
The mean annual income for obstetricians at all levels of experience from across the United States as of May 2009 was $204,470, according to the BLS. The top 75 percent of obstetricians earned in excess of $156,870 per year. Salary.com placed the median income for obstetricians at $250,343 as of April 2011. Wages for obstetricians may widely based on the geographic region of the country where they practice and the type of employer they work for.
Regional Wages
More obstetricians and gynecologists worked in California than in any other state in the U.S. as of May 2009, according to BLS. The 2,340 OB/GYNs who practiced in California earned a mean hourly wage of $97.63. Alaska reported only 40 OB/GYNs practicing in the state, but they earned comparable mean hourly wages of $97.17. Obstetricians who practiced in Arkansas earned among the highest mean hourly wages for their profession at $111.81. OB/GYNs who practiced in Montana earned among the lowest mean hourly wages for their profession at $71.49.
Employment Type
Approximately 75 percent of OB/GYNs worked in private physicians' office where they earned mean annual wages of $210,450 as of May 2009, according to the BLS. These obstetricians were the highest paid by employment type. Obstetricians who worked for specialty hospitals also earned mean annual wages in excess of $200,000. OB/GYNs who worked for colleges, universities, and professional schools earned among the lowest mean annual wages for their profession at $102,580.
Considerations
Obstetricians may work long and sometimes irregular hours. Birth typically happens when the baby is ready, rather than when the time is convenient for the mother or the doctor, and this can be late at night or in the wee hours of the morning. New job opportunities for physicians of all specialties should increase by 22 percent between 2008 and 2018, according to the BLS. Those who are willing to practice in rural regions or inner city areas may have greater employment opportunities.