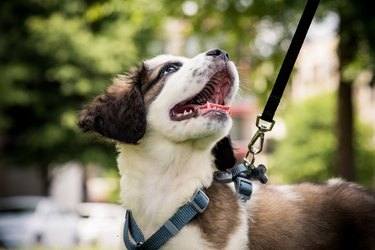 For a dog lover, the life of a professional dog handler may sound like a dream. However, dog handler jobs can be much more challenging than they seem on the surface. A dog handler's salary varies depending on whether you handle dogs for private owners or a police force. It also depends on the number of years of experience you have in the field.
Tip
General dog handlers make $10.85 hourly on average, while police dog handlers average $44,706 annually.
Job Description
A dog handler specializes in training and caring for animals. Handlers often work with private owners, especially those who regularly participate in the dog show circuit. When it comes to dog handler salary, though, the higher rate that comes with police dog handler pay can make that route more appealing.
Handlers don't simply play with dogs all day. They use their expertise to observe dogs and correct any undesirable behaviors. Dog handlers that work with police departments must provide specialized dog training relating to the police work those canines do.
Education Requirements
Due to the wide range of job types in this field, your educational requirements will vary. Many dog handler jobs will require only a high school diploma, as long as you have the specialized training necessary to work with dogs. You will, however, likely be expected to have a certificate or some other proof of training specific to the work you'll be doing.
Police dog trainers, on the other hand, usually need a higher level of education. In order to work as a police dog handler, you'll become an officer, which means you'll likely need at least some college education. You'll also be required to go through basic training at a police academy — a process that typically takes several months.
Industry
In addition to police departments and dog shows, you'll find dog handler jobs in a variety of locations. You may work with search and rescue, the military, rescue shelters or groomers. Outside of dog handling, animal trainers can be found at zoos, aquariums and recreational facilities like Sea World.
Of course, one lucrative option, if you're feeling entrepreneurial, is to get all the necessary training and experience, then go into business for yourself. Dog trainers are always in demand in every area of the U.S. You would need to network and market your business, but you can set your own prices and work your own hours by going to private homes to provide one-on-one dog training and consulting.
Years of Experience and Salary
Average dog handler salary varies dramatically from one position to the next, but the median pay is $10.85 an hour as of May 2019. An entry-level dog handler with less than five years of experience typically earns about $23,000 per year, with mid-career employees earning closer to $37,000.
Police dog handler pay is substantially higher, on average, with a median salary of $44,706 yearly, as of May 2019. Entry-level handlers can lower that by 8 percent, or about $3,576, for a total of $41,130. Mid-career handlers in law enforcement can expect to see about 6 percent more, or approximately $2,682, for a total of $47,388.
Job Growth Trend
Overall, the Bureau of Labor Statistics predicts that the animal training industry will see job growth of 22 percent over the next decade. This is much faster than average job growth, making it a good career choice for those who have the aptitude for working with animals.
As with police dog handler pay, there are no specific statistics relating to trainers who work specifically with law enforcement. To get a feel for the demand for this type of work, it can help to look at job growth statistics for police officers. Job growth in this field will be average, at a predicted 7 percent over the coming decade.