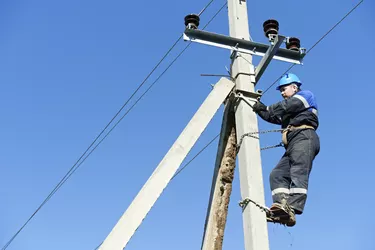 Electrical groundsmen, also known as electrical linemen, work on overhead electrical connections, ensuring their safety and maximum power capabilities. Since this job involves handling live power lines, only trained electrical workers should apply for this position. A college degree isn't required, but specialized training is necessary for licensing. This type of electrician can work as a self-employed contractor or find work through local power companies.
Education and Experience
Candidates for this entry-level position should be 18 or over and have a high school diploma or GED. Linemen often operate bucket trucks,so they will need commercial driver's licenses. Some companies require individuals to undergo a four-year apprenticeship or accumulate 144-hour classroom hours followed by 2,000 hours of on-the-job training. Each state requires candidates to pass a specific licensing exam. Some electrical groundsmen pursue a bachelor's degree of science in electrical engineering in order to qualify for other electrical jobs. People applying for this position must be fit enough to move heavy cable and operate machinery.
Pay and Benefits
The median salary for an electrical worker was $24.28 per hour as of 2013, according to the U.S. Bureau of Labor Statistics. According to the BLS, an apprentice groundsman normally starts at 30 to 50 percent of the pay of an experienced groundsman. This type of work can be temporary -- for example, a groundsman may work for short periods in disaster services or for site-specific projects. In these cases, a per diem rate might include travel or lodging expenses. Companies looking for permanent employees may offer health and life insurance, along with other company perks.
Work Environment and Duties
Electrical groundsmen work mainly outdoors, tracing downed power lines and blown transformers. They work in rural and urban areas at all times of the year. Groundsmen handle special equipment like conduit benders, wire strippers and drills. Electrical work at this level is performed in high locations atop power poles and along power lines. Special clothing like shock-proof boots and gloves are necessary. Linemen may be required to work in inclement weather at any hour of the day or night.
Job Outlook
Electrical jobs, including linemen positions, are expected to increase 20 percent between 2012 and 2022 according to the BLS, making the job outlook positive. New homes, businesses and communities always need electrical groundsmen. New technologies like smart power grids and solar connections also will keep electrical workers from becoming obsolete.