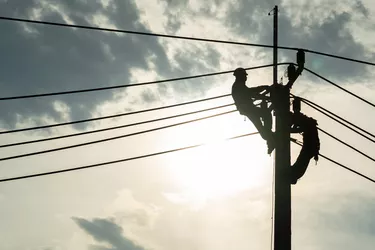 The Salt River Project (SRP) is a joint utility company in Arizona, producing and distributing electricity and water to the Phoenix metropolitan area and central Arizona. As a public utility company, SRP salaries are expected to be competitive with similar jobs in the area. If you have the right skills, utility companies can be great to work for, with good benefits and constant demand for work. Electricians who don't mind the physical demands of an outdoor job, are rigorous with safety protocol and complete work with a sense of urgency are great candidates for this kind of career.
Tip
An SRP lineman salary will vary, but may be around $50,000 in general or around $70,000 in the Phoenix area as a journeyman.
Linemen work directly with the infrastructure and equipment used to carry electricity through the existing network and into homes. They'll need to be able to build new lines from scratch that are compatible with existing lines, as well as repairing and maintaining the existing lines and equipment and safely removing lines that are no longer functional or needed.
Linemen do work high in the air on utility poles, as well as on ground equipment, so they need to be physically fit. In addition, they should be aware of the dangers inherent in all of the work they do. In fact, because working with high voltage lines is extremely hazardous, SRP linemen are expected to adhere to high levels of safety protocols when on the job.
SRP Linemen Education Requirements
Most linemen start with a high school diploma, GED or equivalent. Some linemen choose to attend a trade school or earn a two-year associate degree in a related field to help their career move forward. Spending time in a related field of study can help build an understanding of the fundamentals of the job. While an understanding of algebra, construction and electricity are important, there is also a significant portion of the job that is learned hands-on.
Linemen start as apprentices in the field and must earn a large number of hours of on-the-job training under a qualified lineman in order to become a journeyman. Often, companies will require anywhere from three to five years of on-the-job experience as an apprentice before they will consider hiring someone as a journeyman in an independent role.
There are certifications to be obtained on this path, which will vary from state to state. Journeymen will not only be expected to know the details of their work, but also the safety regulations that apply to the work done in their area. There are a number of OSHA and NFPA certifications that may be required depending on the kind of work a lineman is looking to get into.
SRP Salaries and Industry
Becoming a lineman for SRP comes with a solid salary and good benefits. According to one average from ZipRecruiter.com, a lineman in Arizona will make just under ​$50,000​ annually, although this is the average for the entire state.
When looking specifically at the Phoenix area of Arizona, ZipRecruiter gives an average salary of just over ​$70,000​ for a journeyman lineman, a significant increase from the previous number. ZipRecruiter does note some variance in the amount, meaning there's probably a significant rise in salary as linemen gain experience and skill level.
Trade fields like electrical linemen are expected to grow substantially over the next five to 10 years, as the infrastructure in America hits new aging points and requires reformation and renovation. An electrical lineman with an interest in career expansion can also move into a mentoring or management position, up to and including becoming a maintenance foreman or supervisor, as long as they have the right skills and education.