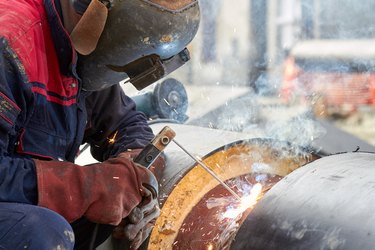 The welding industry employs thousand of people each year and pays substantial wages. Nuclear welding pays on the higher end of the welding wage scale, especially if you are certified as an underwater welder. According to the International Atomic Energy Agency, or IAEA, the nuclear industry has taken off and the future looks promising through 2050.
As a welder working in the nuclear field, you can make considerably more earnings if you are certified as a welder and a diver. According to the American Welding Society, or AWS, nuclear welder salary can be anywhere from ​$100,000​ to ​$200,000​ per year. The AWS website also has links to underwater welding schools. Although nuclear diving salary is attractive, the risks are considerable.
Nuclear diver welders are required to be highly skilled, as they are often under a great deal of pressure to make repairs quickly. Further, the occupation can be stressful because there is no room for error. Any type of nuclear reactor shut-down can cost thousands of dollars per minute. Nuclear welding exposes divers to radiation, and they can quickly suffer from fatigue due to high water temperatures in the reactors.
Nuclear Non Water Welders
Welders without diver certifications can still find work in the nuclear industry. The Bureau of Labor Statistics, or BLS, reports that nuclear welders, cutters, solderers and brazers make an average salary of ​$87,650​ per year, or ​$42.14​ per hour, as of May 2020. These positions also require special safety training and welders can be exposed to various levels of radioactivity while performing welds. The job requires attention to detail and precision.
Other Industries that Hire Welders
Welding is a versatile skill used in almost every industry imaginable. Nuclear welders looking for work outside of the nuclear industry can find positions in mining, shipbuilding, construction, auto manufacturing and many others. The average hourly wage for a welder outside of the nuclear industry, according to the BLS, was approximately ​$22.45​ per hour as of 2020. At the bottom of the range, welders made a little over ​$14.73​ per hour and at the top, a little over ​$31.85​ per hour.
The training a welder receives prior to getting his first position is a critical determinant of his earnings. Training to be a welder can range from several weeks for a basic welding position, to several years and additional certifications for underwater welding in the nuclear industry. Community colleges offer a variety of welding programs often customized to the industries located in their areas. Understanding the potential earnings for a welding career assists students in choosing the right program and the right amount of training to achieve the positions and the income they are seeking.