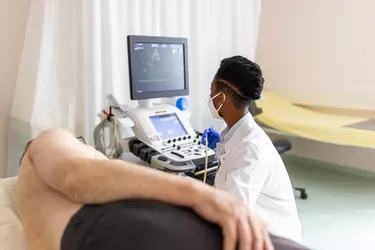 If you're interested in making a career transition to the healthcare industry, EKG technicians and phlebotomists are both in demand. While phlebotomists handle blood draws, EKG technicians perform cardiac tests. Despite their different duties, both roles involve directly working with patients and usually require just up to a couple of years of training. As of May 2021, the Bureau of Labor Statistics listed an average phlebotomist salary of ​$38,450​ and an average cardiac technician salary of ​$​​62,020​.
Phlebotomy vs. EKG Technician Description
As a phlebotomist, you can expect to prepare the materials needed to do blood draws, give instructions and answer patients' questions. You'd then perform the blood draws and get the specimens ready for processing either at the same medical facility or another location. You'd also have to ensure a sanitary environment. Common workplaces include hospitals, ambulatory health centers, labs and doctors' offices.
EKG technician jobs also involve steps for preparing both the equipment and patients for the procedure. For example, you'd ask the patient about their health information, place the machine's electrodes on their body and then start the EKG test to monitor the patient's heart rate and rhythm. You'd review the results to ensure there aren't quality issues before you provide them to the medical professional who analyzes them. Doctors' offices, hospitals and outpatient care centers are common EKG tech employers.
Phlebotomy vs. EKG Technician Education
The BLS notes that aspiring phlebotomists usually enroll in a one-year certificate program with lab work in addition to traditional classroom learning. However, you might find an employer who will train you without this credential. Your state or employer may also require you to pass an exam and earn certification through an organization such as the National Phlebotomy Association.
In comparison, the BLS lists an associate degree as the typical minimum requirement to become an EKG technician, but you might decide to earn a bachelor's degree for career advancement. You can find cardiac technician degree programs at various schools, and you will complete clinical training. This role can also require certification from an organization such as Cardiovascular Credentialing International, as well as general CPR certification.
Phlebotomy vs. EKG Technician Salary
According to the May 2021 data from the BLS, the national median salary for an EKG technician was ​$60,570​. However, salaries ranged from ​$29,910​ on the low end to ​$98,070​ on the high end. These numbers were significantly higher than what the BLS reported for phlebotomists. The median phlebotomy salary was ​$37,380​, with earnings ranging from ​$28,990​ for the lowest-paid workers to ​$48,490​ for the top-paid ones.
When looking at industry-specific average salaries, phlebotomists working for general hospitals made ​$37,430​ compared to ​$​​61,150​ for EKG techs. Average salaries at doctors' offices ran ​$36,280​ for phlebotomists and ​$65,130​ for EKG techs. Many phlebotomists worked for laboratories and averaged ​$40,570​, while some EKG techs worked for outpatient care centers and averaged ​$88,170​.
The District of Columbia ranked as a top-paying state for both health professions, with phlebotomists averaging ​$45,390​ and EKG techs averaging ​$82,630​. Other states with high cardiac technician salary ranges included Rhode Island, Oregon, Alaska and New Jersey, while Nebraska, New Mexico, Kentucky and Pennsylvania ranked among the lowest for earnings. Phlebotomists earned top salaries in California, Washington, Massachusetts and New York, while Iowa, Alabama and New Mexico were some low-paying states.
Phlebotomy vs. EKG Technician Outlook
When deciding on a healthcare career plan, keep in mind that the BLS expects both EKG technicians and phlebotomists to enjoy increased job opportunities through 2030. That's because medical facilities will need more people to perform these procedures on patients. However, demand is expected to grow at a much faster ​22 percent​ rate for phlebotomists than the ​eight percent​ rate for cardiac techs. In addition, there will be jobs available in both occupations due to career transfers and retirements.