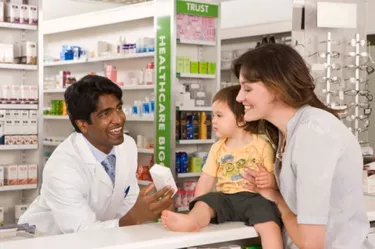 According to a 2010 report by CBS News, three of the top five fastest-growing careers in America are in the medical field. Because people always need medical care, medical professionals are always in demand, even during times of slow economic growth. While the field is growing, however, wages for medical careers can vary widely.
Emergency Medical Technicians
Emergency medical technicians, or EMTs, work as first responders during emergencies. EMTs often operate out of ambulances and other response vehicles, and provide critical respiratory, cardiac and trauma care at the scene of an emergency. To work in the profession, individuals must complete an emergency medical technician training program, and have state-certification. Community colleges and specialized EMT schools provide training.
The salary of an emergency medical technician varies, depending on individual experience and location. According to the U.S. Bureau of Labor Statistics, the median hourly wage for an emergency medical technician was $14.10 in 2008. However, earnings can be higher with sufficient experience, and the top 10 percent of EMTs earned over $23.77 per hour.
Laboratory Technologists
Laboratory technologists, sometimes called laboratory scientists, work with cells and fluids in order to detect and diagnose illnesses. These technologists use specialized equipment such as microscopes and medical computers to analyze a variety of lab samples. In order to be employed in this field, individuals usually must hold a four-year bachelor's degree with a scientific specialty, such as medical technology.
The Bureau of Labor Statistics indicates that the median wage for laboratory technologists was $53,500 per year in 2008. Approximately 10 percent of all employees in this profession earned $74,680 or more. The amount of education, training and real-world experience has a significant impact on the wage earned by laboratory scientists.
Registered Nurses
Registered nurses, commonly called RNs, provide medical support and assist with the treatment of patients at hospitals and other care facilities. RNs often work directly with patients, and use medical records, testing equipment and computers to diagnose conditions and manage treatments. A degree in nursing at either the bachelor's or associate degree level is required in order to become an RN, and individuals must complete a licensing test in order to be employed.
In 2008, the median yearly wage for a registered nurse was $62,450. The top 10 percent of all nurses earned over $92,240 annually. Generally, RNs with bachelor's degrees in nursing earn more than nurses with only associate degrees.
Pharmacy Technicians
Pharmacy technicians work in hospital pharmacies and local drug stores, and assist with many duties involving prescription medications. Common job tasks include communicating with customers, labeling prescription containers and verifying prescriptions. The educational requirements for pharmacy technicians vary from state to state. In some areas, a high school diploma is required and a community college certification program is recommended. In other areas, training is provided on the job.
The Bureau of Labor Statistics reports that in 2008, the median hourly wage for pharmacy technicians was $13.32. The top 10 percent of pharmacy technicians earned over $18.98 per hour.
Medical Physicians
Physicians diagnose illnesses, prescribe specialized medication and oversee the treatment of diseases and injuries. Physicians typically practice a certain specialty of medicine, such as family, internal or pediatric medicine. The educational requirements for physicians are very demanding. To become a doctor, an individual must complete a bachelor's program and then compete for a place at a graduate medical school. Following four years of medical school, he must also complete several years of internships and residencies, learning specialized hands-on medical skills.
While the requirements for physicians are challenging, the compensation is high. Although yearly earnings vary based on the type of specialty, the median annual wage for all physicians was $186,044 in 2008. The top 10 percent of doctors earned significantly more, with a yearly wage of $339,738.