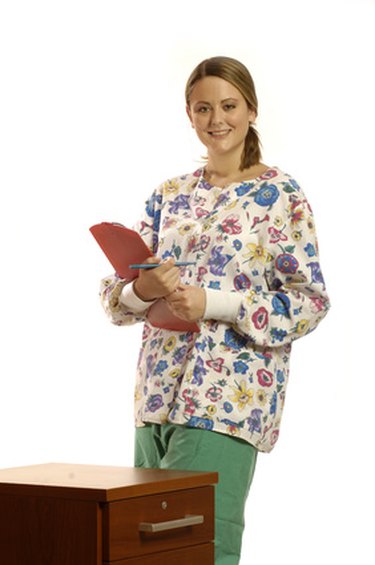 Physician assistants are tasked with, under the supervision of physicians, practicing medicine. They will treat minor injuries, order X-rays and other diagnostic tests, prescribe medications and diagnose and counsel patients. An associate's degree in a physician assistant program is the minimum educational requirement needed for this role.
National Salary Scales
In May 2009, the Bureau of Labor Statistics (BLS) found that the average salary of physician assistants was $84,830 a year, which corresponds to $40.78 an hour. The median rate of pay was roughly the same at $84,420 a year, which indicates that salary scales for this profession are evenly spread. Indeed, the bottom 10 percent earned less than $55,880 a year, while the top 10 percent enjoyed incomes of $115,080 a year or more.
Local Salaries
Physician assistants had the highest salaries in Nevada, where in 2009 they were far above the national average at $103,500 a year, according to the BLS. This was followed closely by Washington, Connecticut, the District of Columbia and Alaska. In terms of local area, those employed in the Chattanooga area bordering Tennessee and Georgia had incomes significantly higher than those nationally, averaging $142,220 a year. Those employed in Racine in Wisconsin and the Lake County-Kenosha County area in Illinois and Wisconsin also had comparatively high annual incomes.
Sector Salaries
A large percentage of physician assistants are employed in offices of physicians. Salaries averaged $84,720 a year in 2009, according to the BLS. Big employers also included general medical and surgical hospitals, outpatient care centers and the federal executive branch. The highest salaries were found in the employment services sector, which represents temporary workers, at an average of $104,780 a year in 2009. Those employed in mental health facilities also enjoyed a higher wage, at $103,520 on average.
Qualifications
An associate's degree in a physician assistant educational program will take two years to complete if undertaken on a full-time basis. Any program must be accredited by the Accreditation Review Commission on Education for the Physician Assistant. In addition to associate's degrees, master's degrees are also available to those who have a bachelor's degree in another discipline. Those taking an associate's degree often have previous experience in the healthcare field. All physician assistant education programs will lead to an equivalent standard of learning.