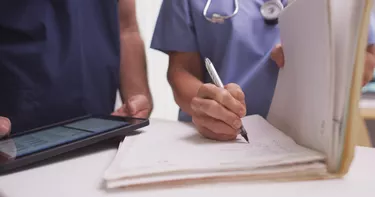 Becoming a physician assistant or associate is a wonderful way to work in the medical field and help others. While you may not become wealthy working in this role, the salary of a physician assistant is usually enough to support a comfortable lifestyle. However, level of education impacts how much money a physician assistant or associate makes.
How Much Does a Physician Assistant Make?
How much does a physician assistant make in a year? According to the U.S. Bureau of Labor Statistics (BLS), the median salary for physician assistants in 2021 was ​$121,530​. Those compensated with an hourly wage made ​$58.43 per hour​, which is substantially more than the minimum wage anywhere in the country.
There is more good news besides the salary of a physician's assistant. The BLS expects more than ​40,000 jobs​ to be available in the field between 2020 and 2030. That's a growth rate of ​31 percent,​ which is much faster than the national average for all industries and occupations.
Physician assistants are in high demand not only in places with many people but also in places with large medical centers. Some of the best metropolitan areas for being a physician assistant include Rochester, Minnesota; Ann Arbor, Michigan; and Iowa City, Iowa. Some of the highest-paying states for physician assistants include Connecticut, Alaska, Rhode Island and New Jersey.
For the most part, the people included in the figures have a much higher level of education than an associate degree. The majority of physician assistants have a master's degree, which is often required to be a full physician assistant. The amount of time it takes to get a master's degree can be prohibitively long, though, so there are individuals who opt to work as physician assistants with an associate degree instead. You can expect that a physician assistant or helper with only an associate degree will make a smaller physician associate salary.
Even in just the nursing professions, it's clear that there is a wide range of income amounts in the medical field even if you don't take location into account. In comparison, the BLS mentions that a licensed practical nurse or licensed vocational nurse earned a median salary of ​$48,070​ in 2021 or an hourly wage of ​$23.11​. The BLS also explains that registered nurses made ​$77,600​, which is an hourly rate of ​$37.31​.
How to Become a Physician Assistant With an Associate Degree
All physician associate degree programs are competitive, whether they lead to an associate degree or a more advanced degree. You'll need to have excellent grades, especially in the sciences and math. It helps a great deal to have experience in the medical field already. Some people go to physician assistant school after completing nursing school and working for several years as a nurse.
You'll have to work and study hard in school to complete your physician assistant program successfully. Failure thresholds in many programs are between 85 and 90 percent. You'll take courses in human biology, anatomy and chemistry. You will need to learn a lot about medications and how they work in the human body. You'll also gain practical experience learning how to do real-life procedures, like starting an IV, and other things to assist doctors and ill patients.
Part of your schooling will also be interning and working in various medical settings. That way, you can decide what kind of job to look for when you finish school. Some physician assistants prefer fast-paced hospital settings, while others like to work in doctor's offices where they can get to know their patients over the course of years.