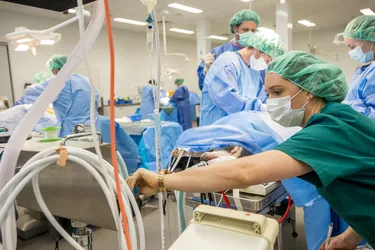 Anesthesiology is one of the highest-risk areas of medicine, and becoming a physician's assistant in anesthesiology requires much study and hard work. How much does an anesthesiologist assistant make? Anesthesiologist assistant salary ranges are impressive, and they compare well against physician's assistants (PAs) in other fields. If you're considering going into the field, you'll need to know about anesthesiologist assistant schooling.
How Much Do Anesthesiology Assistants Make?
According to the data aggregators at the U.S. Bureau of Labor Statistics, physician's assistants earned a median salary of ​$121,530​ in 2021, which is more than twice the national average for salaries. A certified anesthesiologist assistant salary may be higher than that average, though, given the complexity of what anesthesiology entails. Like anesthesiologists, anesthesiology physicians' assistants make more than their peers in other fields. Anesthesiologists and their PAs are in very high demand in hospitals and other medical settings, which means better pay, benefits and working conditions.
Anesthesiology PAs earn an average income of around ​$190,000​. The top 10 percent of earners make around ​$350,000 or more​, though many live in more expensive parts of the country. At the same time, that amount pales compared to the average salary for anesthesiologists who have earned a medical degree. The U.S. Bureau of Labor Statistics explains that the average anesthesia salary is over ​$350,000​, and the highest-paid anesthesiologists make more than ​$500,000​.
Anesthesiologist Assistant Schooling
Anesthesia is an exact science, and even minor errors on the part of a clinician can be fatal for the patient. Becoming an anesthesiologist or PA in the field requires many years of schooling so that they can meet these precise expectations. The first step is earning a bachelor's degree in a related scientific field, such as biology, pre-med or chemistry. After undergrad, you can attend PA school, where you can earn a master's degree in a related field. These graduate programs are somewhat similar to medical school but are more practical and sometimes more hands on; they also only take two years, while medical school takes four.
After medical school, you'll need to pass a national licensing exam and apply for licensure with your state. Your state may have its own requirements. Then, you'll need to prepare for and pass board exams in an anesthesiology specialty. You can work as a general PA as you work toward that goal.
Many people who become physicians' assistants have prior experience in the medical field. They may have been registered nurses or paramedics or may have served in countless other roles. If you're considering anesthesiology, you'll want to try to gain experience working in operating rooms to familiarize yourself with the work environment.
Other Factors That Impact an Anesthesiology Assistant Salary
Some other factors impact an anesthesiologist assistant's salary. One of them is where you live, although it isn't as simple as the cost of living. Health care workers are scarce in rural or less desirable parts of the country. Because of the increased demand, salaries are also higher in these areas; however, you may face an unmanageable caseload if you're the only one in the area.
The highest average salaries for physicians' assistants are in Alaska, Connecticut and Rhode Island. PAs in nonurban Alaska have one of the country's highest average salaries, but that's largely because they provide some of the only medical care available in that region.
PAs can earn doctoral degrees. While they are not medical doctors, they get the title. They also get other privileges; in some cases, they can write prescriptions. Some teach in university settings. Because of this, many of them earn higher salaries or have higher annual incomes.