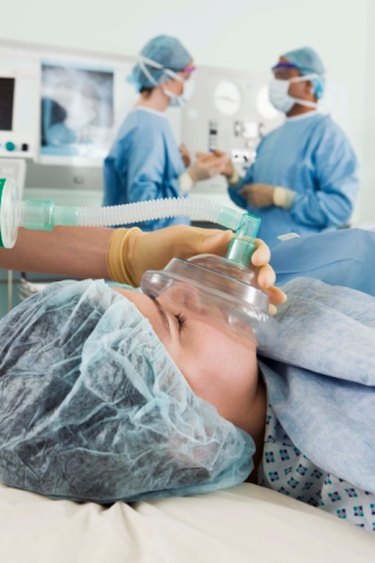 Physician assistants (PAs) work closely with doctors in caring for patients in medical settings. PAs are highly skilled medical professionals, and you must complete in-depth training to work as a PA. Because of this, PAs are compensated fairly well. Health professionals working specifically with anesthesiologists, called anesthesiologist assistants, can earn even higher salaries, but additional training is required.
PA Education
A physician assistant program usually takes a little more than two years. More than 140 programs exist nationwide at two- and four-year schools. PAs can earn associate, bachelor's or master's degrees depending on the program. All PAs must sit for an exam to be certified as a physician assistant. Students who complete a PA program recognized by the Accreditation Review Commission on Education for the Physician Assistant (ARC-PA) are eligible to take the Physician Assistant National Certifying Examination (PANCE). Additional requirements are necessary to maintain this status, including continuing education classes.
PA Salary
Physician assistants earn an average of $87,140 per year. The states where PAs earn the most, according to the U.S. Bureau of Labor Statistics, are Washington and Wyoming, with an average salary of $98,620 and $97,820, respectively. On the lower end of the salary range, PAs earn approximately $57,000 per year. On the higher end, they can earn a salary of $117,000 or more. According to the BLS, the job outlook for PAs is very good and the field is expected to grow rapidly.
Anesthesiology Training
Physician assistants who desire to work in anesthesiology generally require additional training. The path usually chosen is anesthesiologist assistant, which is basically a PA working in anesthesiology. If you are considering a career as a PA working in anesthesiology and have not started school yet, consider going to school directly to be an anesthesiologist assistant. If you are already a PA, Emory University offers a program that will allow you to complete the anesthesiologist assistant training in less time (if you meet the requirements).
AA Salary
Physician assistants working as PAs generally do not assist with complicated anesthesiology practices. Becoming an anesthesiologist assistant allows you to work closely with an anesthesiologist in administering anesthesia similar to the way PAs work closely with doctors in other settings. AAs can expect to earn a starting salary of $120,000, which is a bit higher than a PA salary. If you are interested in assisting physicians in patient care, physician assistant might be the occupation for you. However, if you are interested in assisting anesthesiologists specifically, anesthesiologist assistant might be the right career choice.