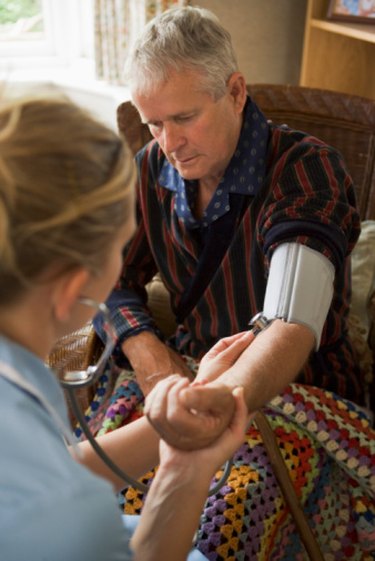 Certified nursing assistants, or CNAs, provide basic care for patients and assist in other tasks that keep a health care facility running smoothly. They record patients' vital signs, transport patients to appointments within the facility, give skin care treatments, change simple dressings, apply support bandages and stockings, perform enemas and change bedpans. CNAs also may stock linens and other supplies and assist with admitting and discharging patients. The median hourly pay for CNAs in New Jersey is higher than the national average for this occupation.
Geography
New Jersey CNA salaries vary somewhat depending on their location. CNAs working in Vineland, for instance, have a median annual salary of $29,294 as of March 2011, translating to about $14 per hour. In contrast, CNAs in New Jersey's largest city, Newark, earn $33,128 as a median annual salary, or close to $16 per hour. The median annual salary for CNAs in Cherry Hill is $29,801, in Atlantic City $31,268, in Long Branch $31,439, in Trenton $32,057 and in Paterson $32,875.
Salary Range
The middle 50 percent of CNAs in this group of New Jersey cities were earning $26,768 to $36,375 per year, or about $12.90 to $17.48 per hour. The lowest pay generally was in Vineland, where the bottom 10 percent were earning less than $24,450 per year, or $11.75 per hour and lower. The highest pay generally was in Newark, where the top 10 percent of CNAs were making more than $39,330 per year, or $18.90 per hour and higher.
Comparisons
Nationally, the middle 50 percent of CNAs are making $25,754 to $30,957 per year as of March 2011, according to Salary.com. The median annual salaries for CNAs in Atlantic City, Long Branch, Newark, Paterson and Trenton all rank in the top 25 percent nationwide.
Considerations
Not all nursing assistants are certified, but federal law mandates that those who work in nursing homes and other skilled nursing facilities have this credential. Looking at Long Branch as the representative of the median salary in New Jersey, or the number in the middle of the salary figures, a nursing assistant in Long Branch without the certification credential has a median annual salary of $29,376, compared with $31,439 for a certified CNA. To become certified in New Jersey, an individual must complete the 90-hour New Jersey curriculum for Nurse Aide in Long Term Care Facilities Training and Competency Evaluation Program.