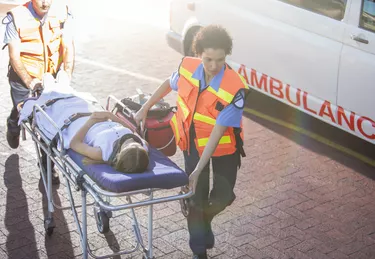 If you have an interest in serving those in need, a good head in a crisis and the ability to put patients at ease in stressful situations, then a career as an emergency medical technician could be a good match for you. EMTs work on ambulances to respond to 911 calls. Emergency call outs could range from life-threatening situations, such as gunshot wounds and cardiac arrests, to relatively minor complaints such as broken ankles.
Tip
The average EMT salary in Texas is around $35,000-$36,000 in 2019.
Job Description
Emergency medical technicians are highly skilled first responders who care for sick and injured patients in emergency medical settings. Specific tasks include responding to emergency calls, assessing a patient's condition, providing first-aid treatment, transporting patients to a hospital, reporting the patient's status to physicians, and taking care of inventory and equipment after use. You must have good people skills as you'll be reassuring patients during a potentially stressful and frightening situation.
Education Requirements
Texas has four levels of EMT certification: Emergency Care Attendant, EMT-Basic, Advanced EMT and EMT-Paramedic. Above that is the highest certification — Licensed Paramedic. The entry point is an emergency medical technician program from a community college or technical institute. These are non-degree awards that you can complete in one or two tears.
The Texas Department of State Health Services uses the National Registry of Emergency Medical Technicians exam as the state exam for licensure. All levels of NREMT certification require you to complete a certified EMT program and pass the national exam, which has written and practical parts. You must pass the NREMT exam to be eligible for state licensure.
Salary
Nationwide, according to the Bureau of Labor Statistics, EMT wages come in at $34,320 annually as of May 2018. This is the median salary. If you lined all the EMTs in the country up from the highest to the lowest paid, the median wage would be the person in the middle. On Salary.com, the number is a little higher, averaging out at $35,834. The lowest 10-percent tier earned $22,760, while the highest 10 percent earned more than $58,640.
These figures are national averages, however, and there are significant regional variations. Salary.com provides a guide for the average EMT salary in various Texas cities, including:
Houston, which has an average EMT pay of $36,730.
San Antonio, with an average EMT pay of $34,902.
Dallas, which has an average EMT pay of $35,594.
Austin, with an average EMT pay of $35,297.
Fort Worth, which has an average EMT pay of $34,917.
Industry
Much of an EMT's job is performed at the scene of an incident and while transporting patients to hospital. It's a physically demanding job, since an EMT has to lift serious ill and immobile patients and perform his duties in difficult environments such as car crash scenes. The work is stressful, often involving life-and-death decisions. Since the job involves emergency response, EMTs must be available to work varying shifts including overnight and on weekends.
Years of Experience
Like most jobs, EMTs earn more as they advance their careers and grow in skills and experience. However, the salary differential between a 5-year qualified EMT and someone who has been in the job for 20 years is not as great as you might expect. The website Payscale provides national-average figures, breaking down the salary progression by years.
Those with 0-5 years of experience earn about $27,000.
Those with 5-10 years of experience earn about $31,000.
Those with 10-20 years of experience earn about $31,000.
Those with 20+ years of experience earn about $34,000.
We've already seen that geography plays a major role in salary caps, with Texas coming in higher than the national average.
Job Growth Trend
EMTs are in pretty good shape, sustainability-wise. Government data suggests that employment of emergency medical technicians and paramedics will grow 15 percent by 2026, which is more than twice as fast as the growth rate for all occupations. This is largely due to an aging population, which increases the number of health emergencies such as heart attacks and strokes.