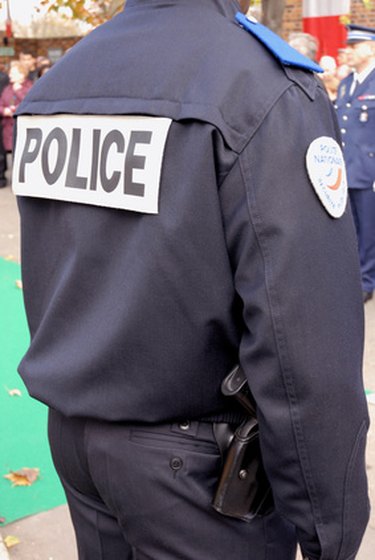 The training required to become a police officer begins with your high school diploma. After you have complete high school you the number of years of schooling differs depending on the police force you wish to work for as well as your other experience in college or military service. This schooling is in addition to the training required once you are admitted to the police force as a trainee.
High School
All police departments require that their applicants have a four-year high school diploma or an equivalent GED. This is the minimum amount of education necessary outside of the police force to become an officer. An minimum age of 21 is generally required for admittance into traning for becoming a police officer so applicants can opt to attend college directly after high school while awaiting their 21st birthday.
College Education
Depending on the police force you wish to join, you may be required to obtain either a two-year associate degree from a community college or a four-year degree from an accredited college or university. The presence of a college degree in a related field such as criminal justice can, according to Peace Officer Jobs, give police officers a higher starting pay and more opportunity for advancement in the field.
Training
Once you have entered police academy training, you will be required to complete a 12- to 14-week course before being admitted to the police force. This training is also offered at some universities such as the University of Illinois which house a 480 hour training course over a 12 week period of 40 hours of training per week. Upon successful completion of the training course you will be eligible for placement on the force as your necessary education for becoming an office will be complete.
Military Experience
For those people looking to enter into the police force after military service, the training they received in the armed forces is used to determine acceptance in lieu of any further education after high school. Some police academies also view military experience more favorably than a traditional education. For example, the Philadelphia Police Department award veterans a 10-point boost on their entrance examination, an award not offered to any other type of applicant.