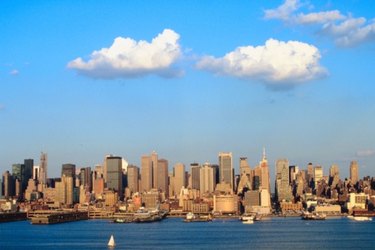 New York City has one of the largest and most effective police forces in the United States. Strategic deployment of resources, new technology and diligent law enforcement are taking a "bite out of crime." Statistics show a 76.69 percent reduction in violent crime from 1993 to 2010, according to the city website. Captains are integral leaders within the structure of the department. There are 450 police captains employed by the NYPD. One out of every 79 uniformed officer holds the rank of captain. The captain's exam is offered every 2 to 3 years.
Job Description
New York police captains are, first and foremost, police officers sworn to protect the lives and property of the city's citizens. They work to maintain law and order, catch criminals and prevent crime. The New York City Police Department's organizational chain of command is modeled after the military. Captains directly supervise squads or companies of officers. Captains are supervised by the police chief or commissioners.
Qualifications
In order to be eligible to take the NYPD Captain's examination, all candidates must first pass the basic test for NYPD police officers. It does not matter if you have a record of employment as a ranking police officer in another jurisdiction. You must take the test again. Candidates must have a valid, unrestricted New York State driver's license, pass a drug/alcohol screening test and pass an extensive background and character investigation. Candidates must reside in one of the five boroughs of New York City or in one of the surrounding counties.
Training
NYPD captains have gained their rank through knowledge and experience. The New York Police Department encourages officers to gain additional post-employment educational credits. The NYPD offers course credits, tuition reduction programs and numerous scholarships to local colleges and universities to help candidates earn their undergraduate or graduate degree in law, police science, business administration or related law enforcement fields of study.
Income
As of June 2010, the top base pay for a NYPD captain is $140,000. The total compensation package equals $160,000 per year. All New York police officers, regardless of rank, receive paid medical, dental and eyeglass insurance, paid vacation time, unlimited sick leave with full pay, deferred compensation in the form of a 401 (K) and I.R.A., excellent promotional opportunities, educational opportunities and optional retirement at one-half salary after 22 years of service. New York City police officers also receive paid holidays, longevity pay, overtime and uniform allowances. Additional benefits are available to NYPD officers with previous military service time.