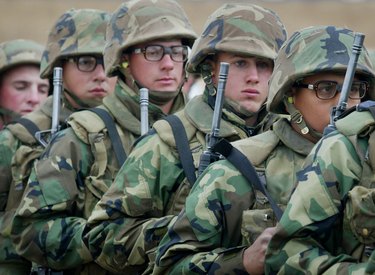 Enlisting in the U.S. military can have its advantages. Consider the money that each of the armed forces offers you to enlist, either as active duty or reserved duty. However, military qualifications and enlistment benefits are likely to frequently change, so it's best to contact a branch recruiting officer to confirm the offer before you sign up.
Air Force Bonuses
As of October 1, 2010, U.S. Air Force enlistment bonuses were only available to qualified applicants for various specific careers. The highest-paid bonuses are for combat controller and pararescue jumper positions, which offer a $3,000 bonus for a four-year enlistment, or $17,000 for a six-year enlistment. Some positions only offer bonuses for a six-year enlistment. There are a limited number of bonuses available each fiscal year. You must contact a local recruiter for bonus availability, qualifications and individual details.
Bonuses for Army Enlistment
In the U.S. Army, if a new recruit chooses a specific Army job, has special training, takes on extra responsibilities or has served in the military before, he may be eligible for a one-time bonus. A combination of bonuses may be available to new recruits, up to $40,000 for active duty enlistment, or up to $20,000 for the Army Reserve, if qualifications for enlistment are met. A recruit may receive an active-duty education bonus based on his level of college education. A civilian skills bonus is available to recruits who enlist for active duty and to reserves if they're proficient in certain foreign languages, have X-ray certification, or experience in animal care.
A Ranger bonus is offered to recruits who enroll in and complete the Ranger Indoctrination Program. They may receive a bonus if they enlist for and complete officer candidate school in an eligible area of concentration. Those who enlist as a Middle Eastern translator aide in the U.S. Army Selected Reserve may be eligible for a bonus for language proficiency.
Naval Sign-on Incentive
The U.S. Navy has expanded its Enlistment Bonus Program in order to attract recruits with the right mix of skills and college education. Newly enlisted sailors may qualify for combinations of bonuses based on source rate, physical screening test, language proficiency, and reclassification program qualifications. No active-duty enlistment may exceed six years and total bonuses received will not exceed $40,000. A sailor returning to active duty with the Navy is eligible for a sign-on bonus if he's a paygrade E4 or lower, and didn't receive an enlistment bonus before.
Bonus for Marines
According to a Marine Corps Times article by Dan Lamothe, Marine recruits could collect up to $10,000 for sign-on bonuses in 2011. Newly enlisted Marines must complete Military Occupational Specialties School and be selected for the desired occupation to collect the bonus. A shipping bonus is also being offered to some Marines without any restrictions for military occupational specialties, which can be collected after boot camp graduation. In 2011, the largest enlistment bonuses went to selected recruits in 12 electronics maintenance jobs and four cryptologic linguist positions. Enlistment bonuses for recruits and re-enlistments were down substantially in 2011, compared to bonuses available in 2010.