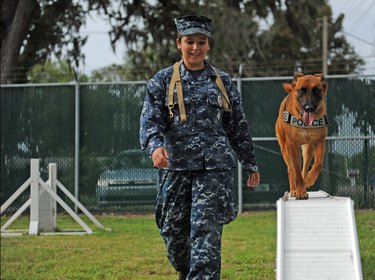 Within the United States Navy are numerous opportunities to grow your career and further develop your skills. If you are interested in joining the Navy or furthering your Naval career by becoming a member of the Navy Police, you may be wondering how one becomes a Navy police officer and what you can expect the Navy police salary to be. Regardless of your previous education or whether or not you are currently serving, you can apply to become a Navy police officer.
More commonly referred to as the Master-at-Arms, the Navy Police are a sect of the Navy that focuses on law enforcement and security within the Navy. According to the Navy's official recruitment site, the Master-at-Arms focuses on various responsibilities such as executing crime prevention programs and employing anti-terrorism measures.
As a Navy police officer, you can be deployed anywhere in the world to provide security and protection on U.S. naval ships, bases and at military installations. Master-at-Arms officers can also be tasked with training sailors in security and shore patrol responsibilities.
They may also operate military prisons, called "brigs," both aboard ships and on shore, become part of the K9 unit and oversee the care and training of narcotic and explosive detection dogs and investigate Uniform Code of Military Justice violations.
To become an enlisted sailor in the Navy Police requires a high-school diploma or equivalent. To become an officer, one typically needs a college degree. According to the Navy's recruitment site, general qualifications to join the Master-at-Arms varies depending on whether the applicant is currently serving in the Navy, has served before or has never served.
To become a member of the Navy's Master-at-Arms, qualified applicants must complete the initial ​7-to-9-week​ recruit training, more commonly referred to as Boot Camp. Once completed, Master-at-Arms applicants report to San Antonio, Texas, where they receive formal, ​9-week​ Navy technical training at "A" School.
This is where applicants learn anti-terrorism techniques, armed sentry/post standing techniques, as well as crime prevention, military and civil law and communications. They will also receive formal training in first aid, firearms deployment and physical restraint techniques.
Salaries within the United States military depend on a number of factors, such as whether the individual is enlisted or an officer, whether they are on active duty or in the reserves and the number of years they have served in the military. According to the Navy's recruitment site, the base entry-level pay for an active-duty sailor at the E-1 Seaman Recruit level who recently enlisted with up to ​1 year​ of service can expect to receive ​$1,785​ per month. The monthly pay for sailors at this level remains the same regardless of time served.
The highest monthly pay for an active-duty enlisted servicemember in the Navy is reserved for the E-7 Chief Petty Officer and is set at ​$3,207.60​. This amount increases with every year served in the Navy, maxing out at ​$4,189.50​ per month after ​8 years​.
The Navy salary per month for active-duty officers begins at ​$3,395.80​ for Ensign officers who have served less than ​two years​. As with the Chief Petty Officers, monthly pay increases over time. The highest monthly pay for an officer in the Navy is reserved for O-10 officers who have served for over ​20 years​. This Navy officer salary is set at ​$16,608.30​, according to the Navy's active duty pay chart for 2021.