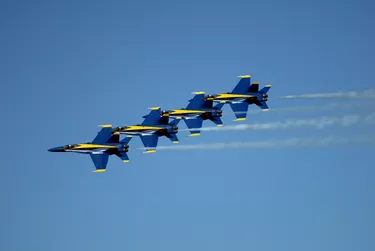 Blue Angels pilots are ambassadors of U.S. Navy aviation. According to the USO, more than 11 million spectators view the Blue Angels during show season, which typically lasts from March through November. Blue Angels pilots earn the same as any military officer of comparable rank and years of service.
Blue Angels Pilots Description
Blue Angels pilots showcase their skills and teamwork during exhibitions for the public. Their flight formations are performed with great precision, often under high g-force, which is the force of gravity on a pilot's body. The Blue Angels formed in 1946, just after World War II, to maintain public interest and support for Naval aviation. Although the Blue Angels disbanded briefly to serve as fighter pilots in the Korean War, today's Blue Angels do not fly combat missions.
Blue Angels Pilots Education Requirements
Becoming an officer in the Navy or Marines requires a minimum of a four-year college degree and successful completion of Officer Candidate School (OCS). Navy and Marine pilots on active duty who want to fly with the Blue Angels must have a minimum of 1,250 tactical jet flight hours, according to a Blue Angels pilot interview in Flying magazine. In addition to flight experience, Blue Angels pilots are expected to demonstrate dependability, focus, professionalism and a strong work ethic.
You can be part of the Blue Angels pilots support team as an enlistee in the Navy or Marines. To enlist, you must have a minimum of a high school diploma, be a U.S. citizen and be between the ages of 17 and 39 years. Requirements can change with the needs of the military, so for the most current information and to find out whether you qualify, visit your local recruiter.
As explained on the United States Navy Blue Angels website, the Blue Angels team is made up of 16 officers who are selected from volunteers for this prestigious assignment. The Navy typically selects three tactical (fighter or fighter/attack) jet pilots, two support officers and one Marine C-130 pilot. In addition to pilots, the team also includes a flight surgeon and officers in charge of maintenance, supply, public affairs and events coordination.
There are approximately 100 enlisted personnel who serve on the Blue Angels maintenance and support team. Team members typically travel with the Blue Angels pilots to show sites in rotating crews of 45 sailors and Marines. As with Blue Angels pilots and officer support team, selection for the enlisted team is highly competitive. Assignments with the Blue Angels are usually three years in duration for enlisted personnel.
In all five branches of the U.S. Armed Forces, earnings are accorded by rank, or pay grade, and years of service. It's done this way to standardize pay across the branches, since the names of ranks may be different. For example, in the Navy, officers at the O-6 pay grade are called captains. In the Army, Air Force and Marines, captains are officers at the O-3 pay grade. Blue Angels pilots are not paid any differently than other service members of equivalent pay grade and years of experience.
Basic pay is summarized in a yearly table published by the Defense Finance and Accounting Service (DFAS). For example, a Navy captain (pay grade 0-6) with over 20 years experience on active duty earns ​$11,217.60​ per month in basic pay, or approximately ​$134,600​ per year. A lieutenant commander (LCDR) is at pay grade o-4. With over 12 years of experience (but less than 14), basic monthly pay is ​$8,066.70​. That translates to about ​$96,800​ per year.
Blue Angels Pilots Job Outlook
Because of COVID-19, the Blue Angels canceled air shows scheduled from March 2020 to March 2021. The Blue Angels resumed performing in air show events in April 2021 and already have a full schedule, which you can see on the U.S. Navy Blue Angels website, for 2022. The popularity of the Blue Angels seems to assure that their performances at air shows will continue for the foreseeable future.