Each branch of the U.S. military has its own elite members, known as Special Forces. In the Army, that group is known as Green Berets, named for the colorful headwear that has been their tradition since the early 1960s. Becoming a Green Beret is a big honor for any military professional, bringing additional pay and benefits. Although you do have to meet some extra requirements to achieve that ranking, it may not be as difficult as you think.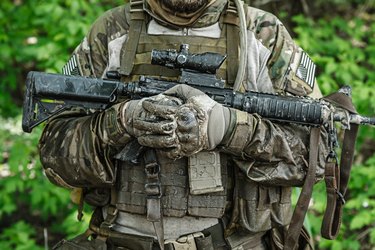 Green Beret Requirements
There are a few things you'll need to do to qualify to wear the green beret, but many of them are testing related. The Army prefers you have at least one year of college behind you, but this isn't a strict requirement, so don't let it hold you back from applying. You must be between the ages of 20 and 30 and have a high school degree, though.
You will need to qualify and volunteer for Airborne training, which is a three-week course that teaches you the basics of safely parachuting from airplanes. You'll also need at least a General Technical score of 110 and a combat operation score of 100 on the Armed Services Vocational Aptitude Battery (ASVAB). Once you've achieved that, you'll be asked to take and pass a physical fitness assessment and the Pre-Basic Task List.
Salary and Benefits
As with any occupation, the salary for Green Beret officers can vary based on rank and title. Overall, the salary of a Green Beret officer averages $70,000. Compare this to the average salary of a general Army soldier, which is just over $30,000. Active duty soldiers and officers earn more, and your salary will also go up as you move from officer to sergeant or lieutenant. Soldiers across all ranks have the opportunity to earn extra income, including special duty pay between $75 and $400 a month for extra efforts and $50 to $150 monthly for serving in a hardship area.
In addition to your salary, you'll earn $50,000 in education credit, 30 days of vacation and medical benefits. You'll get specialized military training and build strong leadership skills, while also earning the valuable designation of having served in an elite area of the U.S. military. In the years following your service, this will serve you well, whether you decide to continue your government service or parlay your experience into a career in the private sector.
Not everyone can earn the status of Green Beret officer. Although you will be required to meet a few requirements, you likely already have what it takes to get started. Contact a recruiter to see if you qualify to join the Special Forces.