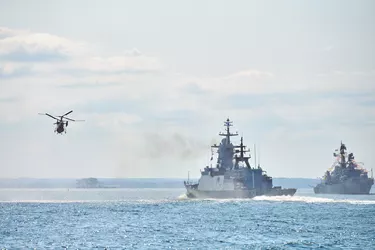 The U.S. Department of Defense explains that a Navy captain is a commissioned rank that's one of the highest in the military. Navy retirement pay is based on the base monthly salary earned while on active duty and reflects how many years the captain was in service. How much does a captain in the Navy make, and what can officers expect once they leave the military?
Captain is the sixth rank among officers in the U.S. Navy. Captains can serve as commanding officers for major commands, like aircraft carriers, SEAL groups, guided-missile submarines and destroyer squadrons. For land-based commands, they can work at joint staffs or at the Pentagon or can end up as chief officers at shore installations. As senior officers, they are in the O-6 paygrade.
According to FederalPay.org, the starting salary of naval captains for the O-6 paygrade is ​$7,332 a month​ with a maximum of ​$12,979.50​. If you multiply those monthly numbers by 12 each, you have a range of ​$87,984 to $155,754 a year​. These officers can also earn more money for drills. Equivalent ranks to a Navy captain in the other military branches are Air Force colonels, Army colonels, Marine Corps colonels and Coast Guard captains.
Navy captains must serve ​20 years​ to become eligible for retirement pay unless early retirement is mandated due to a service-related disability. Extra monies earned while in service for flight pay do not go toward the base monthly pay calculations, though. There are two ways to calculate Navy retirement pay: Final Pay and High-36. Final Pay is for Navy captains who entered their services on September 8, 1980 or sooner, and it uses the final basic pay rate. The High-36 method is for captains who joined the Navy after that date; this uses the average basic pay for the 36 months when the captain earned the most.
With the Final Pay system, retirement benefits are calculated by multiplying the final monthly base pay by ​2.5 percent​ for each year of service. If you retire with ​20 years​ of service, you'll receive ​50 percent​ of your base pay; this goes up to ​100 percent​ after ​40 years​ of service. With the High 36, the main difference is that the pay is calculated using the average base pay for the three highest-paid years instead of the final monthly base pay. The same percentages also apply, with ​50 percent​ for ​20 years​ of service and ​100 percent​ for ​40 years​.
Naval Reserve officers can also be entitled to retirement pay, but this calculation is different because it uses countable service points, and you must be at least ​60 years old​ to claim it. A minimum of ​20 years​ of service can combine active duty and reserve years. For a Reserve year to be countable, you'll need at least ​50 service points.​ Reservists can accumulate these points for days spent in active service, days spent on funeral honors duty, days attending drills and for each year spent in a Navy Reserve unit, with the latter earning ​15 points​.
Navy Reserve retirees can choose from the Final Pay or High-36 plans and then add all the years on active duty plus the number of days in active service in the Reserve. Reserve retirees with ​20 years​ of legitimate service can receive ​50 percent​ retirement pay. Those with ​30 years​ may be eligible for ​75 percent​ in benefits.
Military retirees generally do not have their Social Security benefits reduced when receiving military retirement benefits. These are offered to anyone born in the year 1929 or later who has worked for at least 10 years. You have to be ​62 years old​ to apply for Social Security, but the benefits will be lower for those who apply earlier than the full retirement benefit ​age of 65​.
Applications can be made by calling 1-800-772-1213 or visiting the resources provided by the Social Security Administration website. You need your birth certificate and Social Security card to complete the application. It may also require other information depending on the situation.