The U.S. population age 65 and older will double between the years 2000 and 2030, according to the Administration on Aging. Medicare and other health insurance plans designed for this aging population include an exercise benefit called SilverSneakers. SilverSneakers instructors are trained by Healthways' SilverSneakers Fitness Program to teach senior citizens exercise classes that build strength, balance, endurance and flexibility. SilverSneakers facilities are looking for instructors 18 years or older with experience in the areas of aerobic, yoga and cardio training.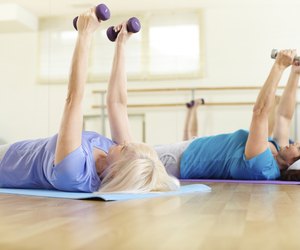 credit: shironosov/iStock/Getty Images
Step
Obtain a CPR certification. CPR certification can be obtained through a local Red Cross facility. The American Red Cross teaches CPR and first aid classes in cities across the country on a regular basis. You can find a class near you by entering a ZIP code in the training class search tool found on the Red Cross website (see Resources).
Step
Qualify for an exercise certification or earn a two- or four-year college degree. Instructors must hold a degree or a certification before becoming employed as a SilverSneaker instructor. Acceptable degrees are those in health or exercise science, recreation of physical education. Acceptable certifications must be nationally recognized and include those offered by the American Council on Exercise, YMCA or the Aerobics and Fitness Association of America (see Resources).
Step
Contact your local SilverSneakers organization and inquire about available instructor positions. SilverSneakers instructors are hired and paid by the local and not the national organization. Ask what classes need instructors and choose one or more that you would like to teach. Ask about how to apply and train to teach those specific courses.
Step
Attend an instructor training course offered by SilverSneakers. The training course should be for the class the instructor would like to teach. A free, online registration at the SilverSneakers Instructor Resource Center is required in order to view the current workshops being offered (see Resources).
Step
Attend the Muscular Strength and Range of Movement workshop taught by the SilverSneakers organization. The workshop must be completed within the first year of teaching a SilverSneakers class. A class can be located through the online Instructor Resource Center at the Healthways website. (see Resources)
Step
Complete the requirements for re-certification to continue teaching for SilverSneakers. SilverSneakers requires its instructors to attend one SilverSneakers workshop every four years for every SilverSneakers class format taught. Current CPR certification must be maintained. American Red Cross CPR certifications are usually current for two years.