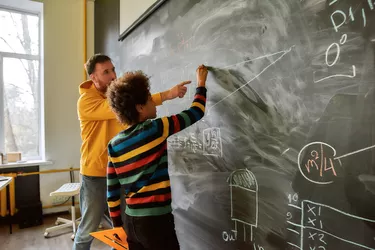 Teacher aides in Texas are most often referred to as paraprofessionals. They must meet various qualifications according to their classification and are only eligible for certification after they have been hired by a Texas school district. Teacher aides perform various job duties, depending on their job assignment. If you're wondering how to become a certified teacher aide in Texas, know that there are different levels and pathways available.
Qualifications for Texas Teacher Aides
Educational Aides I must have experience working with parents and/or children. Educational Aides II must have either ​15​ college credit hours or ​two years​ of experience as an Educational Aide I. They must also be able to demonstrate competency in at least one specialized area and have experience working with parents and/or children.
Educational Aides III must have either ​three years​ of experience as an educational aide or 30 college credit hours with an emphasis in child development or education.
Highly Qualified Teacher Aides
Any teacher aide who is paid from federal Title I funds must have at least an associate degree or 48 college credit hours from a college or university. In addition, they must be able to demonstrate their knowledge of reading, writing and math through some type of assessment.
Texas teachers aides typically take the Parapro assessment in order to qualify for a certificate. The required passing score for the Texas educational aide certificate test varies according to the hiring school district.
Texas Teacher's Aide Certificate Programs
Teacher aides can not apply for certification until after they are hired by a Texas school district. Once you are hired, the hiring school district enters some basic information into the online certification program. Initially, you need to set up an account at the Educator Online Certification System.
Teacher aide duties vary widely depending on the individual's job assignment. Some teacher aides may be assigned to assist one particular classroom teacher with classroom instruction, material preparation and classroom management. Other teacher aides may be assigned to assist a certain group of students, such as special needs children. Still other teacher aides may assist the librarian, supervise students in a computer lab or provide translation services.
Texas Teacher Aide Salaries
Texas teacher aide salaries vary from one Texas school district to another. Salaries may not be enough to fund basic living expenses, which may cause teacher aides to apply for government benefits such as food stamps or seek side jobs.
The Bureau of Labor Statistics listed ​$25,460​ as the average Texas teacher aide salary in 2020, but 10 percent of teacher aides made below ​$17,700​. The median wage was ​$23,640​, while the top 10 percent of Texas teacher aides made over ​$36,220​.