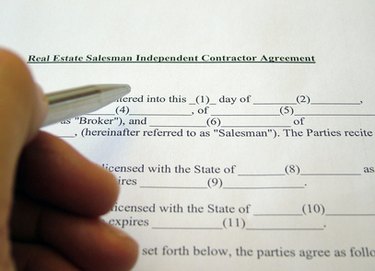 Real estate can be a lucrative career, depending on how much time and effort you put into it. The U.S. was home to more than three million real estate agents and brokers in 2020, reports the National Association of Realtors. The competition is tough, but you can make it through. The first step is to complete training and get a real estate license.
Tip
In most states, aspiring real estate agents need a high school diploma or GED to obtain licensure. However, if you live in Texas, Missouri, Arizona, California or Arkansas, you only need pre-license education.
Education Requirements Vary by State
Depending on where you live, you could become a real estate agent in as little as two or three months. Most states require a high school diploma and 30 to 90 hours of pre-licensing education. The state of Indiana, for example, only issues licenses to applicants who are over 18 years old and have a high school diploma or equivalent. Candidates must also complete 90 hours of training and pass the licensing examination.
Ohio law, on the other hand, requires a high school diploma or equivalent and 120 hours of pre-licensing training at a state-approved college or university. Applicants must complete a training program that covers real estate practices and other related topics. You'll also need to undergo a criminal background check and find a sponsoring broker before submitting your application, explains Ohio Realtors. The sponsoring broker will act as a mentor and guide you through your first years as a real estate agent. Once the above steps are completed, you must take and pass an exam to obtain your license.
One of the few states that don't require a high school diploma is Texas. Aspiring real estate agents over the age of 18 must complete 180 hours of training, pass a background check and take a licensing exam. If you meet these requirements, you will receive an inactive license. Next, you must find a sponsoring broker and work under his guidance before you can get an active license, according to the Texas Real Estate Commission.
If you live in Arizona, you don't need a high school diploma to become a real estate agent. However, you must complete 90 hours of pre-licensing education and pass a state licensing exam. The training can be completed online. Alaska, Arkansas, California, Colorado, Delaware, Missouri and other states have similar requirements – you may apply for a license without graduating from high school, but you must undergo specialized training. Some states, such as Missouri, only require 48 hours of pre-licensing education.
Real Estate Pre-Licensing Courses
While not all states require a high school diploma or GED, real estate pre-licensing education is mandatory. For starters, make sure you choose a state-approved school. Ohio Realtors provides a list of colleges offering pre-license education. Depending on your preferences, you may complete training at Belmont College, Clark State College, Edison State Community College or other schools. If you plan to work as a real estate sales agent in Hawaii, sign up for pre-licensing courses at Abe Lee Seminars, Seiler School of Real Estate or Continuing Ed Express.
Generally, pre-licensing courses cover the legal aspects of real estate, as well as business law, property management, real estate appraisal, general accounting and escrows. Most states also require post-license education. Such courses are typically offered by the same schools that provide pre-license training. For example, Clark State College in Ohio has a continuing education program and individual courses in real estate business planning, risk management, negotiation, ethics and more.
All in all, it takes time and money to become a real estate agent. The legal requirements vary by state and can be confusing for newcomers. Expect to spend a few thousand dollars on pre-licensing courses alone. But even so, it may be worth it if you are good at what you do. Real estate agents can earn anywhere between ​$25,000​ and ​$112,400​ or higher, with the median wage being around ​$49,000​ per year.