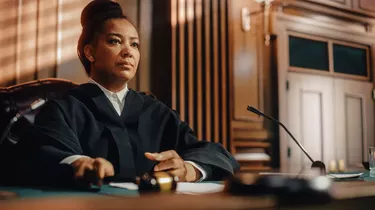 California offers anyone who aspires to become a judge more than one path to reach that goal. California is one of the last states that still allows applicants to become licensed to practice law without completing four years of undergraduate school and without attending an American Bar Association accredited law school. Once licensed to practice law, California also offers two routes to become a judge-appointment and election by the voters.
Education to Become a Judge
If you wish to become a judge in California, you must first complete a minimum of two years of undergraduate study or the equivalent. Most law school applicants complete a four-year bachelor's degree. There is no particular pre-law major in undergraduate school.
There are, however, majors that are popular pre-law majors. Among the common undergraduate degrees for law school applicants are history, English and political science; however applicants with all undergraduate majors are considered. If you have a specific university or college in mind, you should inquire with them as to what they recommend for a pre-law course of study.
Next, you will need to complete the required legal education. California allows bar examination applicants to complete the legal education requirement in one of four ways: receipt of a Juris Doctor degree from an accredited law school; completion of four years of fixed-facility study at a law school registered with the committee; completion of four years of study, including a minimum of 864 hours per year at a distance learning law school registered with the committee; or completion of four years through the law office/judge's chambers study program.
Getting Licensed to Practice Law in California
Apply to become licensed to practice law in California upon completion of all education requirements. Licensing requires successful completion of the first-year law student's examination, the bar examination, the multi-state responsibility examination and receipt of a positive moral character determination. You'll need a clear understanding of questions like "what does a judge do" and the laws of the state of California in order to practice there.
Once you are licensed, you will need to gain experience practicing law in the state of California. There are several ways to go about doing this, but the pathway depends on what type of judge you would like to be. Superior Court judges must have at least ten years of experience practicing law to be qualified for the position of judge. Other judicial positions may not have specific experience requirements but experience will be considered for an appointment or by the voters for an elected position. You can also get a position with a mentor, explains the Superior Court of California (San Bernardino), which offers the Inland County Mentorship Program.
Becoming a Judge in California
Apply for an appointed position as a judge with the governor's office or run for an elected office when a position is vacant. For an appointed position, the applicant generally submits a letter of recommendation as well. The governor's office will then review the application and if they believe the applicant is qualified will pass the application on to the State Bar of California Commission on Judicial Nominees Evaluation.
If the applicant receives high scores, her application will then be passed on to the governor for consideration. As explained by the state of California, all vacancies are filled by the governor. Local bar associations and political parties generally play a part in elected positions. Anyone wishing to run for a judicial position will ideally have the backing of a political party as well as the local bar association.
Networking can go a long way, both in terms of getting a job and making the political connections you may need to later succeed as an elected or appointed judge. As is the case in any job, the more people you know, and the better a job you do, the more likely you are to find success in your career.