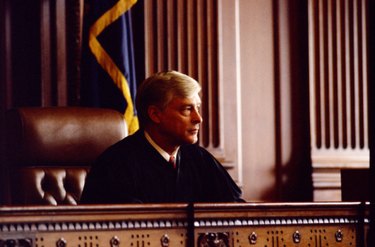 Many legal experts in the United States have recently lamented low salaries for judges, claiming that low salaries deter more qualified applicants from seeking such positions. United States Supreme Court Chief Justice John Roberts has criticized pay for federal court judges who earned $165,200 in 2007, although such salaries far exceed those earned by North Carolina district court judges, who handle less serious criminal and civil matters.
Job Duties
The North Carolina Court System's website explains the role of district court judges. They handle civil, criminal, juvenile and magistrate matters, focusing on smaller cases. District court judges in North Carolina preside over divorce and child support cases, as well as civil lawsuits involving damages of less than $10,000. They also handle minor criminal cases with penalties that do not include prison time, such as misdemeanors and various violations.
Salary
According to a judicial salary survey conducted by the National Center for State Courts (NCSC), district court judges in North Carolina earn an average annual salary of $109,000 as of January 2010. The chief district judge in each county seat earns $113,000 to compensate him for additional administrative duties. They are paid lower salaries than other district courts in states like Maryland ($127,000), Hawaii ($128,000), Massachusetts ($130,000) and Michigan ($138,000.)
Salaries of other North Carolina Judges
Not surprisingly, district court judges earn lower salaries than those enjoyed by other judges in the state. The NCSC salary survey reports that members of the state's Supreme Court earn $137,000 annually, with the chief justice earning $141,000. Members of the court of appeals earn $132,000 ($135,000 for the chief judge). Superior court judges, handling felony criminal matters and civil matters involving damages exceeding $10,000, earn $124,000 per year.
Budget Cuts
Spending cuts have affected budgets for judicial systems across the country. The NCSC survey reports that from 2008 to 2010, North Carolina lawmakers enacted pay cuts and furloughs for state workers to address the state's budge crisis.
The Winston-Salem Journal reported in 2009 that 368 of the state's 396 trial and appellate judges had agreed to accept pay cuts of 0.5 percent. The North Carolina Constitution protects judges from pay cuts during their terms of service, but the judges agreed to the pay cuts endured by other state workers.