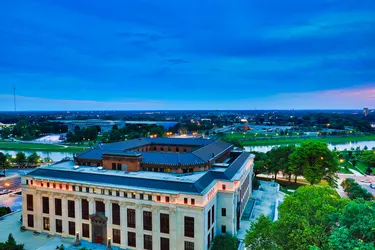 People with ambitious political aspirations often want to be mayor someday, but it's necessary to move up through the ranks strategically, especially in larger cities where there's more competition. Mayor requirements can vary by state and city, and these can apply to the individuals' age and how long they resided in the state. It's good to know all of this ahead of time and develop professional and constituent support.
Requirements for Mayors in Ohio
Ohio mayoral candidates must be residents of their cities or villages for at least 12 months before the election. They must be ​18 years old​, reside within the city or village limits and be registered to vote there by the election date. As for the "cities or villages" distinction, Ohio municipalities can be classified as either; cities have at least ​5,000​ registered voters and those with smaller populations are classified as villages. There might be other requirements, too. For example, mayors of Columbus, Ohio, must comply with the Elected Official Qualifications posted by the government writers at Columbus.gov.
Ohio mayors serve four-year terms, and each one starts on ​January 1​ of the year that follows the election. These high-ranking officials appoint directors of public service and safety and the directors of agency subsidiary departments. Ohio village mayors also act as presidents of their legislative authorities and preside at these meetings. They only vote when this is needed for a tiebreaker, though.
To have the best chance at becoming a mayor, it's wise to graduate high school and get a bachelor's degree in political science, public administration, economics or a related field. If you have your eyes set on obtaining an Ohio mayorship, it may be best to start by attending an Ohio college or university. It's never too late to make political connections, and this is a great place to start. The educators at the University of the People recommend volunteering for political organizations, deciding on a political affiliation and working on someone else's campaign.
You will want to network with as many influential people as you can and start building up a team that can support your efforts and pushes them in the right direction. You can decide the issues you want to focus on, develop your stances and figure out which voter segments are the best for you to target. Now that the baseline is well-established, you'll want to develop a detailed, effective marketing plan to get the word out.
What Do Ohio Mayors Earn?
In larger cities like Columbus, Cincinnati and Cleveland, Ohio mayors earn higher salaries than those who run smaller ones and villages; this is hardly surprising. The experts at the U.S. Bureau of Labor Statistics include mayors in their "top executives" category and claim that these individuals' average yearly salary is ​$98,980​ a year. Many cities and villages make their elected public officials' salaries known to the public; the City of Columbus website reports that as of ​2018​, the mayor was paid ​$186,738​ a year.
So if you have always dreamed of becoming a city or village mayor, there are clear paths to achieving that goal. You can start by getting the right kind of education and making political connections, volunteering and serving on a campaign. You'll need to establish residency too, which means renting, buying or purchasing land in Ohio. You can work with a real estate agent or a land appraiser to help you narrow down the choices and then buy what's right for you. Once you're in the right neighborhood, you won't want to waste any time making connections right in your neighborhood.