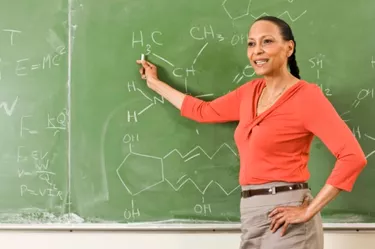 In order to become a teacher in any state, an applicant must first obtain a teaching certificate. Traditionally, teachers completed the requirements for a teaching certificate while enrolled in an undergraduate teaching program. With the increasing need for qualified teachers across the United States, most states have enacted an alternative method for certifying teachers that allows applicants who did not complete a teaching program during college to obtain a teaching certificate.
Traditional Route
Step 1
Obtain a high school diploma or general education diploma, or GED.
Step 2
Enroll in an accredited teacher education program at a university in the state where you plan to teach.
Step 3
Complete your undergraduate degree and receive a bachelor's degree in teaching. If you have completed your degree at an accredited university, you should have all the requirements necessary to apply for and obtain your teaching certificate.
Step 4
Apply to the licensing board or agency in your state that approves teaching certificates. The University of Kentucky provides links on its website to the appropriate board or agency in all 50 states.
Alternative Routes
Step 1
Inquire whether or not your state has an alternative route for teacher certification. Most states do provide a path for certification for those who did not complete a teaching program in undergraduate school. The University of Kentucky website provides links to information from each state regarding certification requirements.
Step 2
Complete the additional courses, or education, if required in your state for obtaining a teacher certificate by an alternate route. State requirements vary; however, in many cases an applicant will need to return to school for a short period of time or complete a course in order to qualify for a teaching certificate.
Step 3
Pass any required examinations. Some states require an applicant to show proficiency in the subject area in which she wishes to teach. The examination may be in addition to, or in lieu of, additional education or courses required for certification.
Step 4
Apply to the appropriate licensing board or agency once you have completed the required education and/or passed the required examinations.
Tip
If you already hold a license in another state, you may also qualify for certification by reciprocity.