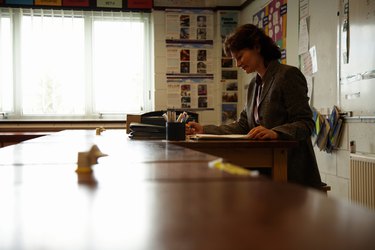 Even the most complete financial plan can be upended by unpredictable emergencies or opportunities. At those times, when a traditional secured loan might not be available, you might consider drawing a loan from retirement instruments such as your IRA. A Texas Teacher Retirement System pension might look like ready source of a loan, but this state program doesn't permit them.
What TRS Is -- and Isn't
Texas' Teacher Retirement System account is a defined benefit state retirement program, comprised of employee and employer contributions, administered under IRS code 401(a). TRS funds do not provide a loan process for participants. Enrollment coincides with employment. As of September 1, 2014, participants contribute 6.7 percent to plans through deductions. After five full years with creditable compensation, accounts are "vested" with accessible benefits. TRS is not an annuity or life insurance policy with loan provisions -- once benefits are withdrawn, they cannot be reinstated.
TRS Withdrawals and ORP Options
TRS regulations do not allow loans, but employees may withdraw contributions if they leave education. Un-vested employees, however, lose the entire school contribution segment of the account. Early withdrawals made on employee contributions are subject to federal tax -- 20 percent as of 2014 -- and early withdrawal fees. Higher education and administrative personnel might choose to replace a standard TRS account with a fixed or variable annuity plan governed by IRS 403(b) known in Texas as the Optional Retirement Program. These pension funds have short enrollment windows, and participants must place and monitor their own accounts. Some ORP funds allow loans under 403(b) regulations.