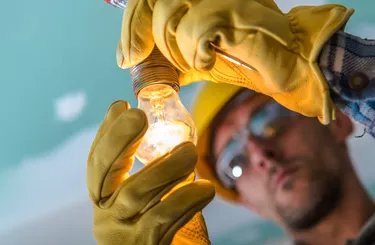 The National Electric Annuity Plan, or NEAP, is the pension plan for the International Brotherhood of Electrical Workers. The only way to take money out of the NEAP account before retirement is by withdrawing the entire amount and closing the account. NEAP's regulations do not permit employees to make partial withdrawals, even in cases of documented hardship.
Tip
Participants in the National Electric Annuity Plan (NEAP) for the International Brotherhood of Electrical Workers (IBEW) may take their money out of the plan before retirement, but only if they close their account and withdraw the entire amount.
NEAP Participation Eligibility
Employees become NEAP participants after working 160 hours in eligible employment, accumulated between the first day on the job and ending on December 31 of the next year. Employees remain participants as long as any money is in their account. Participation ends when the entire balance of the account is taken out as a benefit. Should the employee ever return to employment, he may start participating again if he meets eligibility requirements.
NEAP Investment Funds
The NEAP plan offers the professionally managed Life Stage Funds, with five funds specifically designed for employees under 30, and in their 30s, 40s, 50s and 60s. The employee, upon eligibility, is automatically enrolled in the fund for her age cohort, and the fund changes as the employee ages. During the early years, NEAP investments are more aggressive and growth-oriented, becoming more conservative as time goes on and focusing on asset preservation as the employee nears retirement.
Life Changes that Affect NEAP
The only thing certain is change. Life changes affecting NEAP contributors may also affect the pension plan. In case of divorce, the ex-spouse may receive some portion of the employee's NEAP benefit. If NEAP receives a federally-required Qualified Domestic Relations Order from a court, it will make the stated payments to the ex-spouse.
Upon the employee's death, the NEAP account balance is paid to a surviving spouse or any named beneficiaries. Employees must complete and submit the Designation of Beneficiary form to specify these beneficiaries.
NEAP Contribution Guidelines
NEAP contributions are made monthly by employers for employees covered by an IBEW collective bargaining agreement, an IBEW local union or a NEAP participation agreement. NEAP also accepts rollover contributions and transfers from similar qualified retirement plans. Employees contribute a minimum of 25 cents per hour for each hour worked, but the participation agreement or collective bargaining agreement specifies the exact amount. Employees do not make any direct contributions to NEAP.