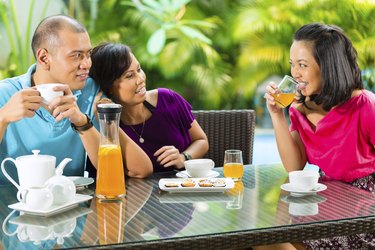 Both the Employee's Provident Fund, started in 1951, and the Central Provident Fund, established on July 1, 1955, provide retirement funds for salaried workers in addition to help with housing and medical expenses. The EPF is designed for salaried people of Malaysia and India, while the CPF plan is for workers in Singapore. There are differences in the contribution amounts, and how much and when the money may be withdrawn.
EPF and CPF Differences
An employee participating in the EPF program has the option of contributing 12 percent or more of her salary while the employer contribution is fixed at 12 percent, as of 2015. With the CPF program, a worker contributes a fixed 20 percent of her salary and the employer amount may vary, starting at 15.5 percent in 2013. Under the EPF program rules, the employee can withdraw some of her contributions at 50 years of age, but she must leave at least 40 percent of the total in the fund until her date of retirement. This differs from the CPF program, where the contributor as of 2013 was required to have at least S$117,000 in the account before any withdrawals can be made. EPF program funds are invested in a variable of financial vehicles while CPF program funds are invested only in government bonds.