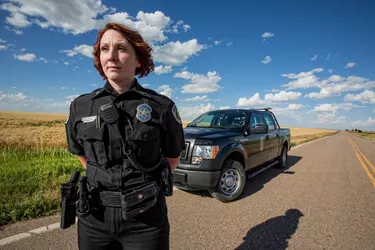 What is an auxiliary police officer? These individuals don't have the same job responsibilities as full-time law enforcement officers; they're courageous civilian volunteers who help out police departments when needed. They receive less intensive training, perform less hazardous police work and are assigned to part-time shifts. Besides the personal satisfaction they may get from helping the public and their country, does an auxiliary cop receive any tangible benefits?
Auxiliary police officers can be volunteers or are sometimes paid. Either way, the training, uniforms, program administration and equipment cost money, usually from federal, state and local funds. The training and experience also look good on resumes, and these officers often are looked upon favorably when applying for full-time opportunities in law enforcement. The NYPD auxiliary is the largest in the country and can be a good inroad for a law enforcement officer career. The work responsibilities won't be the same, though; volunteer auxiliaries help with disaster response, patrol residential and commercial areas, aid with search and rescue efforts and act as community leaders.
Part-time auxiliary police officers may be eligible for certain tax write-offs, especially if they have to cover certain job-related expenses when their departments can't pay for them. However, the expenses have to be more than two percent of their adjusted gross income. This set of expenses can include membership dues, fees for training courses, necessary supplies, job-related travel and cell phones used exclusively for work.
Law Enforcement Officer Careers
To become an auxiliary police officer, you'll need to contact your local police department to see if they have a program in place. To get the most experience, you'll want to contact one in a larger city; while volunteering, you can apply for admission to an area police training academy. Your connection with the local officers should help you with your application. The experts at the U.S. Bureau of Labor Statistics write that the median pay for police officers and detectives in ​2021​ was ​$66,020​ a year or ​$31.74​ an hour. There were ​795,000​ employed in ​2020​, and it's estimated that there will be ​51,700​ more of these jobs by ​2030.​
It's not a straightforward job; it can be stressful, physically demanding and dangerous. Applicants must be ​21 years old​ in most cases, be U.S. citizens and complete police academy training. In addition to the salary, law enforcement officers receive healthcare coverage and other benefits. Federal officers get enhanced retirement perks as per the Federal Employees Retirement (FERS) system. Besides Social Security payments, there are two other sources of income: a Thrift Savings Plan and the Federal Employees Health Benefits plan, both of which the employer will match.
When Can Police Officers Retire?
To receive full benefits, police officers can retire at ​age 55​ or sooner if they are injured in the line of duty; some exceptions exist for officers who meet specific criteria. Federal officers may retire at ​50​ if they were in service for at least ​20 years​; officers can also retire at younger ages if they have ​25 years or more​ of service. Injured federal officers can retire early if they can't execute their work in a typical fashion, but they must have at least ​18 months of service​ under their belts.
Injured police officers who suffer from permanent or total disabilities (after ​November 29, 1990​) can receive help from the Public Safety Officers' Benefits program (PSOB), which is described by the experts at the U.S. Department of Justice's Bureau of Justice Assistance. In case of the death of a retired officer, the next of kin can receive death benefits. These sorts of benefits are usually distributed to the spouse or children; otherwise, the benefits may be paid to the most recent designator.