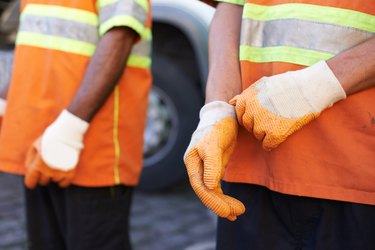 A garbage collector, also called a garbage man, refuse or waste collector, collects and disposes of wastes and recyclable materials from residential, commercial, industrial and public sites. Some refuse collectors are employed by municipalities, while others are hired by private companies contracted to remove trash. According to U.S. News and World Report, a garbage man's annual salary in Illinois is the highest in the nation, averaging ​$60,710​ per year.
Garbage Collector Job Description
Garbage collectors typically work in pairs, with one person operating the waste collection vehicle and the other picking up and loading trash and recyclables. Teams follow a prescribed route through commercial and residential streets to collect trash from appropriate disposal locations. In some cases, garbage collectors work with items that require special handling, such as oversize items and hazardous waste.
Garbage Collector Education Requirements
Although there is no formal education requirement for becoming a garbage collector, many employers prefer candidates who have a high school diploma or general education diploma (GED). While a commercial driver's license (CDL) may not be a condition for hire, obtaining your CDL before applying for jobs could give you an advantage over the competition.
A garbage collector needs to be physically fit, with enough stamina to lift heavy objects, including bins and trash bags, throughout the workday. Some garbage collectors work during normal business hours (Monday through Friday, 8 a.m. to 5 p.m.), while others may work evening or weekend shifts. Garbage collectors spend a great deal of time outdoors, no matter what the weather brings.
Garbage Collector Industry
Garbage collectors may interact with the public, in which case they need good communication and customer service skills. They must work well with others because they're usually members of a refuse collection team. In addition to physical strength and stamina, garbage collectors must have good time management skills. The job requires that individuals keep track of their time and manage multiple stops on their schedule.
The U.S. Bureau of Labor Statistics (BLS) collects data and makes projections for nearly all civilian occupations. The BLS cites an average national salary range between ​$10.71​ and ​$31.74​ per hour, or ​$22,290​ to ​$66,020​. Earnings are based more on factors such as geographic location and longevity with a single employer rather than experience. The latest BLS figures on this occupation are from 2018, when garbage collectors in Illinois earned an average of ​$57,680​ per year, or ​$27.73​ per hour. Other top-paying states, according to the BLS, were as follows:
New York: ​$56,710​

California: ​$53,730​
Washington: ​$51,780​
Alaska: ​$48,000​
Metropolitan areas with the highest pay for garbage collectors, according to 2018 BLS figures, included the following:
San Francisco, Calif.: ​$63,970​

Chicago, Ill.: ​$59,960​
Salinas, Calif.: ​$59,930​
San Jose, Calif.: ​$57,420​
New York City: ​$57,050​
For the most current salary information, look at job listings on municipal websites and employment websites, such as Indeed, Monster, JobHero and ZipRecruiter. Be sure to take the cost of living into consideration.
Use a free cost of living calculator (you can find these online) to help you figure out how much you need to earn to maintain your standard of living. For example, if you earned ​$60,000​ a year in Chicago, roughly an average garbage man salary in Illinois, you would only need to earn ​$42,330​ in Birmingham, AL, where the cost of living is ​29 percent​ lower.
Garbage Collector Job Outlook
According to figures from the Environmental Protection Agency (EPA), ​292.4 million​ tons of solid waste was generated in the U.S. in 2018 (the most recent figures available.) That amounts to about ​4.9 pounds​ of trash per person per day. As the U.S. population continues to grow, it is likely that the amount of garbage will also grow rapidly. The services of garbage collectors will continue to be in demand.