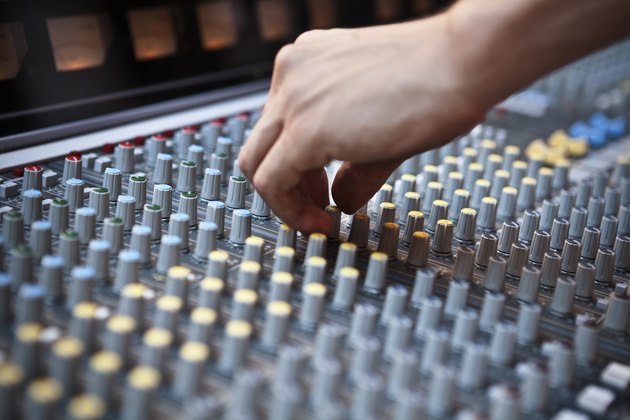 The average Broadway stagehand salary is a controversial number, based on the differing viewpoints voiced by producers and members of the stagehands union. This was a contributing cause in a large-scale stagehand strike in 2007. Pay also varies according to the duties a theater technician performs, as these can cover many jobs from hanging lights to building scenery to sewing costumes or applying actors' makeup.
Pay Dispute
During the Broadway stagehand strike of 2007, producers claimed that stagehands received $150,000 annually, on average. Stagehands claimed that actual rates were closer to $70.000. The strike stemmed both from salary discrepancies and what stagehands viewed as unfair working conditions. That dispute was resolved after shutting down Broadway theaters for nearly three weeks.
Projected Vs. Earned
One reason for the large difference between the producer and stagehand income numbers is that hourly or weekly pay rates are often used to calculate an annual wage. However, stagehands may contract on a per-show basis, meaning they may not work all 52 weeks per year. There is also a large fluctuation in the amount of overtime a stagehand may earn per show, depending on the difficulty of technical features. For example, if a technician works one show that requires extensively programming multiple moving lights, she may earn over $2,400 per week for the setup and run of that show. However, when that show is finished, she may spend a few weeks unemployed and then the next few on a simple show that requires no overtime and fewer rehearsals, earning her approximately half as much per week.
Positional Differences
Lower-level theater technicians, such as electricians, assistant carpenters and dressers, can expect lower annual salaries than higher-level techs such as master electricians, wardrobe supervisors and lead carpenters. Broadway is also comprised of a variety of venues, and each venue pays workers based on its own contracts within parameters set by the International Association of Theatrical Stage Employees (IATSE) Local 1.
Salary Comparison
New York may offer some of the highest theater technician salaries, but they aren't necessarily on Broadway. Some of the lowest-earning electricians and carpenters at Carnegie Hall made well over $300,000 plus benefits in 2009, and the properties master at the venue earned over $400,000 that same year, according to New Jersey reporter James Ahearn, who reported an overall average of $290,000 per year for that venue's stagehands. Aspiring technicians beware: This is not the case across the U.S. Branches of IATSE across the nation guarantee member technicians fair pay, but in many cities this is less than $20 per hour. Non-union stagehands can make even less, earning small, flat-fee stipends per show when not outright volunteering their time.