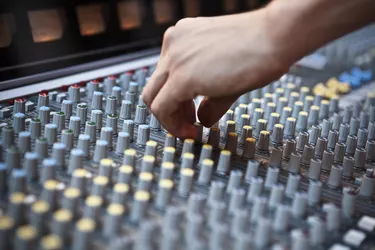 Being part of a theatrical production on Broadway is an exciting job regardless of whether you're working as a stagehand or the star of the show. How much does Broadway pay? Can you earn a living on just a stagehand salary? The pay for various roles in Broadway theater productions can vary greatly, even for theater techs, stagehands and actors. Thankfully, New York City's cost of living tends to make these rates higher than their counterparts in other places.
How Much Does Broadway Pay Theater Techs?
A ticket to see a Broadway show is expensive. Broadway producers understand that all their employees need to earn enough to survive, even in a city as expensive as New York. In New York City, theater technicians earn an average salary of ​$56,437​. The average range is from ​$49,078 to $66,550.​ That's less than people with specialized skills, like lighting directors.
Since Broadway theaters are among the best in the city (along with the Metropolitan Opera House and other prestigious institutions), they often pay higher wages. Most Broadway theater technicians earn around ​$60,000​ or slightly more.
Several factors can influence a theater technician's pay. One of the most significant is experience. The entire crew appreciates people who are confident and reliable in their work, and they're well compensated for their expertise. Another is education. Even entry-level theater techs on Broadway usually have at least a bachelor's degree in theater or a related field. More education can mean higher pay, especially in a tiered pay structure.
How Much Do Actors on Broadway Make?
Pay varies depending on the role and can vary even more than you might expect. Members of the chorus or background actors usually work the same hours performing similar tasks as leads. Leads earn a higher Broadway actors' salary because their talent attracts theatergoers, and the show pays them for their notoriety.
The average salary for a Broadway actor is ​$127,369​, which is much higher than the amount that actors make on average. That's more than enough to live comfortably, even in New York. However, there is a wide range. The data aggregators at the U.S. Bureau of Labor Statistics note that the average wage for actors is ​$23.48 an hour​. Some Broadway actors earned as little as ​$26,063​, while others made more than ​$700,000​.
Because of the nature of the industry, most actors are paid weekly, so how much do Broadway actors make a week? Again, that depends significantly on the role, but the union-mandated minimum pay for a role on Broadway is just under ​$2,000 per week​.
How Does Pay on Broadway Compare With Other Places?
According to the U.S. Bureau of Labor Statistics, broadcast, sound and video technicians made a median salary of ​$49,050​ in 2021. Theater technicians made about the same around the country. The country's top 10 percent of highest-paid theater techs earn just over ​$87,000​ annually.
As you might expect, a typical Broadway salary tends to be higher than in other places, although not very much. This increased salary is partly because New York is such an expensive place to live, with a much higher cost of living than almost the entire rest of the United States, but it is also because Broadway theaters are some of the best, so they pay their staff the best.
What is the bottom line when it comes to Broadway salaries? Most people who work full time on Broadway make enough money to support themselves, but they will not become wealthy. As in most fields of show business, only the most prominent stars make that much money.