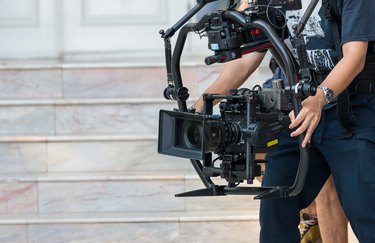 You can compare movie producers to engines that keep machines running, but their work responsibilities start long before turning keys and pushing buttons. The Nashville Film Institute provides a movie producer definition that spells out the many responsibilities of a film producer, including finding and launching projects, hiring team members, arranging financing and managing everything related to pre-production, production and post-production. You might notice that seems like a lot to handle, which leads to the question: Is a movie producer salary really worth it?
A Day in the Life of a Movie Producer
A movie producer's day-to-day activities depend on what type of producer they are. An executive producer will often contribute a lot of money to the project and acquire additional financing while managing legal and accounting issues. These higher-level producers also oversee all other producers involved with the project, manage the recruitment of artists, deal with budgets and schedules, and organize the main objectives of their projects.
Other producers remain on set, supervising logistics and working with directors. They also develop sources, make casting decisions, help with scriptwriting and source development and are responsible for quality control. In some cases, producers may also find themselves doing double duty as actors, writers and directors.
Line producers manage detailed work like creating budget line items, script breakdowns, coordinating activities and schedules with other departments and planning production timelines. Creative producers work closely with directors, and co-producers supervise certain production areas, share duties with other producers and help with fundraising.
How Much Do Movie Makers Make?
Large-scale movie productions have hundreds if not thousands of cast and crew members, with the actors and executive producers at the top end of the food chains. According to ZipRecruiter, the national average movie producer salary is ​$58,857​ a year; this includes small documentaries and other lesser-known projects. When one gets into the elite end of the industry, producers earn money based on what their movies make. The writers at ​Forbes​ claim that Star Wars producer George Lucas is worth ​$6.1 billion​.
The same difference in salary amount goes for the people who play a part in these films. How much do actors get paid for a movie? The team at Salary.com writes that actors average ​$54,970​ a year, and the ​Los Angeles Times​ claims that movie extras earn anywhere from minimum wage to ​$50 an hour​. Those who belong to unions are likely to earn more in many cases, and superstars can earn well over ​$30 million​ per picture when all is said and done.
Hollywood movie producers can make unbelievable salaries, but none of them start in the biggest leagues without experience. Television show producers have many of the same responsibilities but on more minor scales. According to the team at The Princeton Review, those professionals handle large and small details like hiring actors, coordinating scripts, and fact-checking titles and credit names. An advanced degree isn't required, but a bachelor's degree is helpful, especially since the competition for these desirable jobs can be fierce. College internships and production assistant positions in this field are also highly sought-after.
The writers at ZipRecruiter show that the range for television producer salaries is ​$17,500 to $127,500​ with a range of ​$65,663​, but it makes sense that the pay rates for Hollywood TV producers would be higher than that. Netflix movie producers and actors can also earn good livings, but the pay structure is different. As a streaming service, most of the revenue comes from subscriber fees, but they also make money from brand partnerships and other sources.