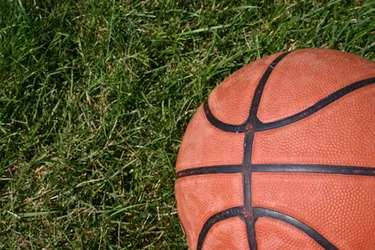 The life of a basketball player is filled with tough work. A professional player spends hours each day staying in the best possible physical shape and studying film of upcoming competitors, and travels across the country for sometimes weeks at a time throughout the regular season. Although the best salaries are earned by basketball players in America, professional basketball leagues exist all over the world. Outside of the top professional basketball leagues, salaries and benefits are much lower and sometimes cannot support a player full-time.
NBA
The National Basketball Association (NBA) is the top professional league for basketball players in the United States. Salaries for NBA basketball players are significantly larger than salaries are in any other professional sports league. The 10 highest-paid players in the NBA all made more than $17 million in 2010, including Kobe Bryant ($24.8 million), Rashard Lewis ($20.5 million) and Kevin Garnett ($18.8 million). Minimum salary levels are based on years of experience; the minimum salary for a rookie is $490,180 for the 2010-11 season, while a 10-year veteran makes at least $1.4 million. Salary levels can vary by team. In the 2009-10 season, the Cleveland Cavaliers had the highest total payroll of $116 million, with an average player salary of $5 million. In the same year, the Los Angeles Clippers spent a total of $32 million on salaries, with an average player salary of $2.4 million.
NBA Development League
The NBA Development League, or D-League, is the official minor league system for the National Basketball Association. Annual salaries for players in the D-League range from $12,000 to $24,000 per year. Minor league basketball players receive $30 per day for expenses such as food; NBA players receive $100 per diem for expenses. Players receive some benefits for medical care and housing, but players often live together in order to split utilities and other costs.
WNBA
The top professional basketball league for female players is the WNBA, or Women's National Basketball Association. The minimum salary for any WNBA player with at least three years of experience was $51,000 in 2010; players with less experience earned at least $35,190. The maximum salary a player could earn in 2010 was $101,500; a team's total salary was capped at $827,000 for the year.
Euroleague
There are many other professional basketball leagues outside of the United States but the best of these is generally considered to be Euroleague. There are 24 different teams in Euroleague, including teams from Italy, Spain, France, Poland, Russia and Israel. Salaries among Euroleague players top out at about $3.5 million; the top 10 players make at least $1.6 million. International basketball players earn less medical care and retirement pension benefits than their counterparts do in the NBA.