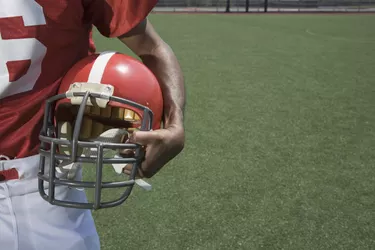 There are 32 teams in the NFL and each employs a handful of athletic trainers. These trainers work with professional athletes to help them stay in top shape on the field and prevent injuries. Athletic trainers are also the first medical personnel on the field when a player is injured. These medical professionals specialize in the prevention, diagnosis, assessment, treatment and rehabilitation of muscle and bone injuries and illnesses -- according to the U.S. Bureau of Labor Statistics (BLS) -- and are recognized by the American Medical Association.
Average Salary
The average annual salary for the more than 100 athletic trainers on the payroll of NFL teams is $64,266 according to a survey conducted by the National Athletic Trainers' Association in 2008, the latest year data is available. The salary range for NFL trainers can vary by experience from as little as $30,000 to more than $100,000 each year.
Highest Salaries
Some of the best paid athletic trainers, with years of NFL experience, can make more than $100,000 per year. On average NFL trainers are some of the highest paid in the business overall, making much more the national average of $39,640 and bypassing their professional baseball ($36,858), pro hockey ($43,079) and men's tennis ($56,000) counterparts. The top 25 percent of all professional football trainers earn $71,500 or more each year.
Lowest Salaries
The lowest paid athletic trainers in the NFL bring home annual salaries that are more on par with the national average. Twenty-five percent of NFL trainers -- usually those with the least experience -- earn $33,000 or less per year. Overall there were more than 16,000 athletic trainers working in 2008 and the BLS expects that number to increase 37 percent by 2018. The average salary of those trainers is expected to increase as well.
Job Duties
The role of an athletic trainer in the NFL can be demanding. Trainers work year-round and are expected to travel around the country (and sometimes internationally) with their teams. This is not a Monday through Friday job; most games are on Sundays and trainers must be in attendance. During NFL training camps and through the regular season, trainers may work 12 to 14 hours per day. New York Giants trainer Byron Hansen told The Professional Football Athletic Trainers Society that he spends most of his time diagnosing injuries and directing care for each player so they can return to the game quickly.