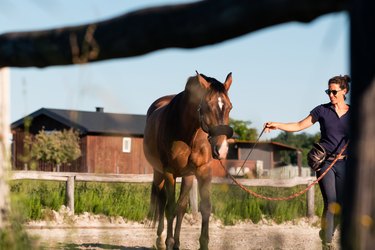 Nothing is more exciting than a day at the races spent wagering on the prowess of horses and jockeys alike. There are a lot of people who work behind the scenes of this sport, including horse trainers. They work for horse owners and train the animals and the athletes alike in the hopes of winning a big race. But what is a horse trainer's salary? Learn about the average horse trainer's salary and how other factors, such as cost of living, years of experience and past success in the field, impact income.
Thoroughbred Horse Trainer Education and Training
Working as a thoroughbred horse trainer is a potentially exciting and rewarding career, especially if you love these powerful animals. Experience and connections are both critical. Try to ingratiate yourself into professional horse racing as young as possible. Become an expert rider or jockey in your youth and familiarize yourself with thoroughbreds.
Some horse trainers earn a bachelor's degree in a related field, such as agriculture, zoology, or even something related to sports management. These skills can be a significant advantage over someone with only a high school diploma. Not only might you have an easier time getting a job with a top trainer but the knowledge you gain will help you along your career path.
As does luck, raw talent plays a huge role in who becomes successful in horse racing. You'll need to guide the horses in your care through many victories before you race at the top venues or even reach the top 75th percentile of horse trainers.
Horse Trainer Job Description
What does a full-time horse trainer do? Trainers understand the dynamics of horse racing and design workouts for both the jockey and the horse to help them succeed in this highly competitive and unpredictable world. They often also provide other services, such as farrier services, cleaning stalls or feeding.
It is chiefly the trainer's job to look out for the health and well-being of the horse. They spend the most time with them and are expected to keep careful records and closely watch their overall health. Your thoroughbred horse can cost hundreds of thousands of dollars, making them a significant investment. Therefore, being a horse trainer comes with a great deal of responsibility.
Annual Salary of a Horse Trainer
In truth, it's difficult to say exactly what a horse trainer makes since it can vary so broadly. The national average is not quite known per data from the U.S. Bureau of Labor Statistics. The Bureau of Labor Statistics compiles data on income for various job titles, but it doesn't differentiate between horse and animal trainers. The salary range for animal trainers is from ​$23,160​ (the bottom 10 percent) to over ​$58,790​ (the top 90th percentile), with ​$31,280​ as the median. Note that other sources, like Comparably, state that the average is ​$74,333​.
That being said, the average horse trainer salary may be higher. This is because at least at the elite level, the people who train horses that win races are rewarded handsomely. High-stakes races in places like New York and San Mateo can carry purses of ​$500,000​ or more for the winner. Naturally, the highest-winning racehorse trainers will earn more throughout their career path and will be in high demand by horse owners willing to pay.
In 2022, Todd Pletcher was one of the top horse trainers in the world. His horses earned more than ​$61 million​. His net worth was estimated to be ​$12 million​. The Todd Pletchers of the world are few and far between. While big names like Todd manage teams of trainers working with dozens of thoroughbreds, most trainers earn an hourly wage doing several tasks.