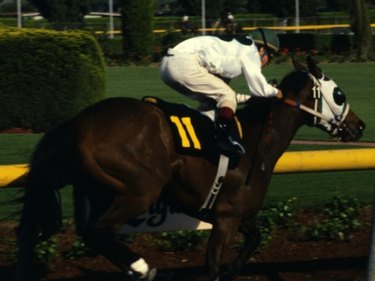 Thoroughbred trainers are not usually on anyone's payroll. They act as independent contractors, establishing client-trainer business relationships with horse owners. The average salary or income of a trainer is subject to several variables. A trainer who specializes in racing usually earns more than one who trains show horses, because he receives additional money through a percentage of a horse's earnings.
Trainer Fees
Thoroughbred trainers who prepare racehorses charge the owners "day rates," a fee per day to train and board each horse. In Kentucky, a trainer's day rate ranged from $65 to $100 per day in 2010, an average of about $82 per day per horse. In New York, it was about $85 per day in 2009. The average thoroughbred race horse trainer would earn approximately $2,550 per month per horse. If he trains 10 horses, a moderate number, he would gross $25,500 per month. Show horse trainers typically charge by the hour for lessons with the owner or by the month. The boarding fee, if the horse lives in his barn, might also include the training fee.
Expenses
A trainer also faces significant costs, so he doesn't net $25,500 per month. He has to pay grooms and exercise riders to work with the horses. He must purchase feed, straw for stall bedding, saddles and other equipment. As of 2010, the average cost to a trainer per horse per day in Kentucky was about $65. Owners generally pay veterinarians and farriers, those who put shoes on the horses, directly; these costs don't come out of the trainer's pocket. At $65 per day per horse, a trainer would have costs in the range of about $1,950 per month per horse. In a 10-horse barn, this adds up to $19,500 a month. The trainer has netted $6,000 in salary for himself.
Winnings
A trainer also typically gets a portion of all the money a horse earns per month, over and above her day rate. If a horse races and comes in first, second or third, the trainer gets 10 percent of the purse, the amount of money the horse earns for racing. If a purse is $30,000, the trainer gets $3,000 of that. If one of her 10 horses wins a race each month, this would bump her monthly income up to $9,000 per month. Horses that come in second or third earn less purse money, but an average trainer could potentially collect percentages of small purses as well and earn in the range of $10,000 per month after expenses and payroll for her employees.
Other Sources of Income
The more experienced a trainer is and the more wins his horses have achieved, the more he can charge for his day rate. Most trainers, however, never reach the Kentucky Derby. These trainers have ways of supplementing their incomes. Some trainers will charge clients a commission for buying and selling their horses, called a bloodstock charge. This is generally in the area of 5 to 10 percent of the purchase price. Trainers might also board horses who are not in training, charging owners "stall rent" to feed and care for them daily. Stall rent is typically a fraction of a trainer's day rate, as low as $7 a day at some barns in Kentucky as of 2010.