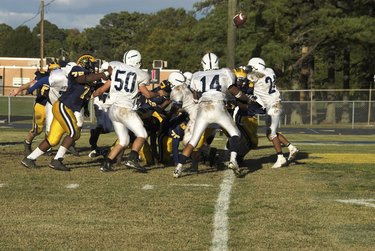 NFL scouts must evaluate and recommend players to their teams ahead of the NFL Draft. Scouts travel around the country gathering information about college players and deciding which players would make a good fit on each of the 32 NFL teams. The recommendations are then given to NFL team management.
Salary
The salary for an NFL scout ranges from $45,000 to $95,000, depending on experience and a successful track record. The director of an NFL team's scouting department can earn as much as $275,000.
Bonuses
In addition to their salaries, NFL scouts can also earn bonuses, based on performance, and can correlate to the selection of a scout's top recommendation and the success of that player. Bonuses can range from a few hundred dollars to thousands.
Scouting Seasons
The job of an NFL scout is year-round. Scouts look at college prospects in the spring and fall and interview people about players. They watch key players during bowl season and all-star games and even closer during the NFL combine and individual colleges' pro days in the spring. Scouts also watch players during individual workouts and host player visits to the city where the NFL team is located.
Education and Hiring
Most NFL scouts hold college degrees in a sports-related field such as sports management. Competition for only a handful of NFL scouting jobs is aggressive, and sometimes getting a job can require good timing and knowing someone in the business. NFL scouts must also have a wealth of knowledge about football, and many scouts have played at some point.