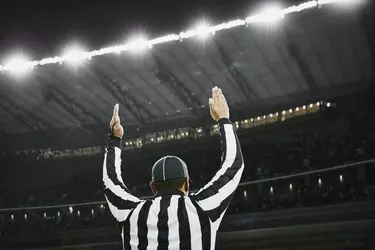 The SEC, or the Southeastern conference, is one of the NCAA's Division I athletic conferences. It is composed of approximately 14 schools. Most of these colleges and universities are public or land grant colleges.
Football is one of the NCAA's most popular sports and is especially beloved in the Southern and Southeastern United States. That means there's a lot of pressure on SEC football referees. You may wish to learn more about the salary of an SEC football referee plus what the job entails, how to get it and more before you commit to this line of work.
Many referees for SEC games are not employed by the SEC or even individual teams but rather by the NCAA itself. For many SEC game officials, this is their full-time job.
In addition to officiating college football games, all refs undergo extensive training throughout the year. Many of them specialize in a single position or type of officiating. For example, they might be a line judge, side judge, back judge, down judge or field judge.
They are experts on every rule in the book. They study how rules and calls played out in past games. Some officials help set rules or precedents for future seasons.
The NCAA doesn't have stringent education requirements for its officials. Instead, in-depth knowledge of the sport and its rules is much more critical. Many officials played sports in high school, though it isn't a requirement. Others started working part time as officials before graduating high school.
NCAA referees must demonstrate comprehensive knowledge of the game and also undergo extensive, ongoing training with the NCAA and the referees association.
The NCAA is a tremendously lucrative organization, and the SEC brings in a tremendous amount of money. The organization and its teams make billions of dollars annually without playoff games.
Nothing frustrates fans like bad calls that hurt their beloved team. Therefore, the role of SEC football referees will continue to be crucial to the league's success. Their salary reflects their importance.
Job Mobility and Career Growth
The median salary for a football ref in the NCAA (of which the SEC is a part) is around ​$57,000​, according to Comparably. According to the U.S. Bureau of Labor Statistics, the median salary for referees, umpires and other sports officials in 2021 was ​$35,860​. Therefore, NCAA officials make more than many of their colleagues.
Refs may earn bonuses or additional money for working past the regular season in postseason games, bowl games, championship games or other off-season games. They may make several hundred or even a few thousand dollars for these games.
Some college football referees become NFL referees and NFL officials, although some prefer to avoid professional sports. The ultimate for football officials is the Super Bowl. Some of the top National Football League referees earn six-figure salaries. The average NFL referee salary is around ​$200,000​ per year. While it isn't common, some refs work in multiple sports throughout their career. They might work for the NBA, NHL or as an umpire in MLB.
The NCAA is a large organization. It depends on reliable, unbiased and knowledgeable referees to make the games run smoothly and be enjoyable to watch. Therefore, there will be a continued demand for SEC football referees.
In addition, there may be teams joining the SEC in the next several years. That means more games will be played every season, and there will be a greater need for officials.
Another positive change in the field is the inclusion of more female referees. Only men worked as officials for many years, but that has finally begun to change.