Football Bowl Subdivision (formerly called Division 1) officials earn compensation based on their experience and game "importance." Rookie officials, as you might expect, make the least whereas veterans make the most. They do not earn salaries; instead, they are paid per game. The top football conferences, including the Southeastern Conference, pay their officials the highest compensation in the FBS. In the SEC, football officials are typically paid between $800 and $3,000 per game.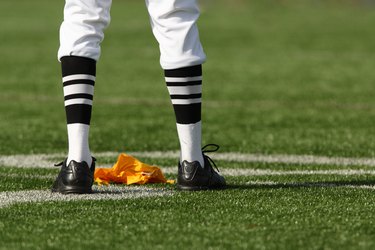 FBS Conferences
Formerly known as Division 1, FBS athletic conferences pay their referees and officials more than Division 2 (now called Football Championship Series) or Division 3 game officials. Within the FBS, some conferences pay more than others. For example, conference referees who officiate games for the Atlantic Coast Conference, Big 10, PAC 12 and SEC earn more than those referees working games in the Mountain West, Conference USA, Ivy League or Mid-American Conference. Those conferences with more lucrative TV contracts, larger stadiums and perennially ranked teams, pay their officials more than FBS conferences with smaller venues, lower TV revenue and less prominent teams.
Referee Teams
Most top FBS conferences, such as the SEC, use teams of seven officials for each game. The NFL uses the same number of officials per game. The referee is the "crew chief" or head official, with the other six team members responsible for specific areas of the field. The referee usually earns the highest compensation as the leader of the team of officials. Because the SEC is one of the two or three highest "profile" football conferences, many of its "minor" officials earn more than referees in smaller, lower-revenue conferences. Although people often call all officials "referees," there is really only one referee for each team of officials in high school, the NFL and college football.
Rookie Officials in the SEC
In the SEC, first-year officials are seldom "rookies." Most SEC referees have a lot of experience working high school and other FBS college games. As a premier football conference, the SEC typically hires only experienced officials from other college conferences. Therefore, most referees in the SEC may be first-year officials, but they are never rookies in the true sense of the term. In the SEC, newer officials make around $800 per game.
Pay Scales
The SEC, like other FBS conferences, has pay scales that vary with referee experience and game importance. FBS conferences with at least 12 members have a championship game to determine the conference winner of each football season. Officials selected to work the championship game earn extra compensation, which includes a pay scale difference and monies for travel, lodging and meals. The SEC offers one of the highest referee pay scales of all the FBS conferences. However, those referees with the most experience still earn more than a comparable referee with less time served.