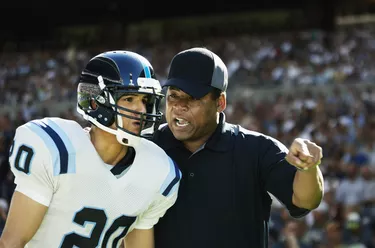 Being a good football coach is more than a love of the game and a willingness to show up when it is time to play. Less ambitious coaches can be happy as a volunteer for high school games, but to nab college football coaching jobs, you have to have focus, determination and the ability to perform well under pressure. The top college coaches earn staggeringly high salaries, too; according to the writers for Fansided, Alabama Crimson Tide's head coach Nick Saban earned more than ​$9 million​ in 2021.
College Football Coaching Jobs
College football has four divisions: I, II, III and IV. Some coaches start at a Division III or IV school and work their way up. According to the writers for BetterTeam, these coaches establish game plans and strategies, inspire players and coordinate and instruct the players. Day-to-day responsibilities include analyzing previous games, organizing tryouts, fostering good sportsmanship, ensuring that the fields and supplies are in order and identifying players who could be talented enough to play professionally.
These coaches also have to attend and lead staff meetings, train staff members, be responsible for recruiting activities and supervise student-athletes in certain aspects of their academic achievement. They might also have to help with fundraising and marketing activities. In the higher divisions and in professional football, coaches have more staff members to deal with, along with the pressures of higher-profile games. They might also have to deal with PR issues, depending on their notoriety.
Football Coaches Education Requirements
The majority of college football coaches have bachelor's degrees, especially those who get head coaching jobs at major colleges and universities. Writers for Jobs in Sports post that common majors for future coaches include athletic training, health science and sports management. Besides that, it helps to have played ball while in school, plus a good amount of relevant experience.
Many aspiring college football coaches start out by volunteering to coach at township recreation games or get entry-level jobs as equipment interns, ball boys, marketers or assistant coaches. Other rungs going up the ladder toward the head coach include offensive coordinator and defensive coordinator. Besides having a comprehensive and working knowledge of college football, the most successful college coaches put their student-athletes first, are disciplined and have outstanding communication and management skills.
Football Coaches: Industry
A college football position coach's salary will depend on whether the coach works for a Division I, II or III school. The National Collegiate Athletic Association (NCAA) governs college athletics, and there are currently ​130 Division I teams, 169 Division II and 250 Division III NCAA teams​. It naturally follows that Division I football head coaches earn the most, but less than the top professional football team head coaches. According to the writers for EDSmart, a top college football position coach's salary is well into the millions. The median SEC head coach salary is ​$4.3 million​, the average Big 12 head coach salary is ​$3.4 million​ and the average Big Ten head coach makes around ​$3.1 million​ annually.
Pretty impressive numbers, for sure, but these coaches have to put in a lot of time before they can coach at these levels. And the better their teams do, the higher a coach's earning potential will be. It is hard to find specific information about a division 2 coach salary or a D2 assistant football coach salary, but ZipRecruiter shows a range of ​$16,500 to $66,500​, with an average of ​$38,043​ a year. Keep in mind that this includes all kinds of colleges and coaching levels and not just the biggest leagues.