Bull riding is not an ideal career for everyone. Professional riders often suffer numerous injuries over the course of a career, some incapacitating. Work can also be sporadic, with many riders eventually hanging up their lassos once the rigors of the profession become too difficult.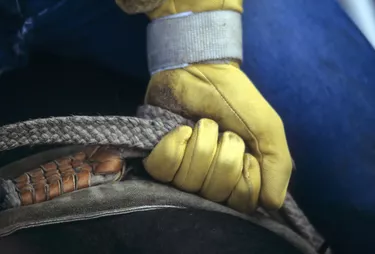 But bull riders earn respect and recognition throughout the world. Those who reach the top tiers of the sport can command multi-million-dollar earnings over the course of a career. Stars like J.B. Mauney and Silvano Alves have earned multi-millions during their careers, with many other members of the Professional Bull Riders (PBR) organization claiming million-dollar and six-figure earnings.
Average Salaries
Although bull riding is a popular hobby, those who excel at the sport can make a career out of it. The salary range for a typical bull rider is $19,910 to $187,200, averaging out at $64,167. This range is due to the competitive nature of bull riding, because so much of a cowboy's success in the field relies on skill. Many bull riders compete on weekends while holding down a day job during the week to pay the bills.
As with other sports, there are various organizations bull riders can join. The aforementioned big money is specific to PBR, but there's also the Professional Rodeo Cowboy's Association, the Women's Professional Rodeo Association and Championship Bull Riding.
Prize Money
Bull riders earn the vast majority of their income from prize money, starting with small amateur competitions at the local level and working their way up to more lucrative competitions. The winner of the Iron Cowboy tournament won $127,350, for instance, while the Caterpillar Classic winner took home $35,000.
To get started, begin competing locally in small rodeos, gradually working your way up. Once you've gotten your experience, join a professional organization to make yourself eligible to participate in bigger competitions. You'll also need to stay in top physical shape throughout your career — success as a bull rider requires endurance in addition to focus. Like any sport, those who practice and work hard can succeed, but the industry is very competitive so perseverance is a must.
Although bull riders have the potential to earn millions of dollars each year, that income is not the norm. Earnings are heavily tied to prize money, so a bull rider will need to continually win to make a living at the sport. For that reason, many bull riders continue to work a day job and enjoy bull riding as a way to have fun and make a little extra money on the side.